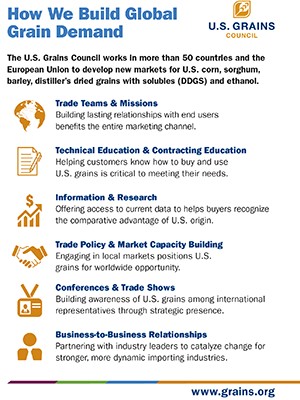 The U.S. Grains Council (USGC) works around the clock and around the globe to find and expand new pockets of demand for U.S. corn, barley, sorghum, ethanol, distiller's dried grains with solubles (DDGS) and other co-products.
Over the last six decades, the Council has developed tried-and-true methods that help make market development more effective. While the movement restrictions related to COVID-19 have limited the ability to conduct these activities in person, USGC staff members and representatives have responded by adapting programming to virtual formats, allowing them to stay connected with customers and keep trade flowing.
"Each market presents its own challenges and opportunities, but the Council has honed its market development work over the past 60 years to develop a core set of strategies to employ in capturing short-term demand potential and developing large and loyal long-term customers," said Cary Sifferath, USGC senior director of global programs, who previously ran four Council overseas offices.
Learn more about the Council's market development strategies below.
Technical Education & Contracting Education
Education is an important part of the Council's work because helping customers know how to buy and use U.S. coarse grains, ethanol and co-products is critical to turning potential into sales. These educational activities take place in the United States during trade teams or short courses, at regional training centers or even by bringing subject matter experts to specific markets or operations.
Technical education topics encompass anything included in the use of a product, from nutritional differences for a feed ingredient like DDGS between different animal species to livestock management and disease control. The Council also helps provide education on importing logistics or grain/ethanol storage.
Contracting education is also an important component of this work – teaching current or new buyers and/or importers how to contract and price products. These topics cover everything from the basics of GAFTA and NAEGA contracts to using futures to forward price grains.
Information & Research
The Council compiles regular reports to keep customers around the world and stakeholders in the United States informed about the latest supply and demand factors related to U.S. coarse grains, co-products and ethanol. These specialized reports each include highlights of global grain flows and provide key statistics for specific markets.
"Offering access to current data helps buyers recognize the comparative advantage of U.S. origin," Sifferath said. "In addition to regularly published reports like the corn crop quality reports, the Council publishes specific studies or research reports on logistics constraints in specific markets. Over the years, we have done a lot of research to help provide the information needed to keep trade flowing."
Trade Policy & Market Capacity Building
Engaging in local markets through trade policy and capacity building helps position U.S. coarse grains, ethanol and co-products for world markets.
Trade policy can involve supporting larger trade agreements or addressing specific trade barriers used to shut down or slow down trade, like retaliatory tariffs.
"The Council works on trade policy on various levels in cooperation with our colleagues at the U.S. Trade Representative (USTR) and the U.S. Department of Agriculture's Foreign Agricultural Service (USDA's FAS)," Sifferath said. "Through trade teams, mission or government-to-government meetings, our staff members on the ground in world markets help to deal with these market access issues on a day-to-day basis to overcome barriers and keep trade flowing."
When commodities have market access, the Council works to build capacity, often working with a local industry associations – for instance, FISA, the Moroccan Poultry Association – to engage their own governments on issues that limit expansion.
"Our industry partners help work with their local leaders to carry the message of how trade policies can lower costs or open new avenues for growth," Sifferath said.
Trade Teams & Missions
Trade teams are when the Council brings groups from a specific market or country to the United States to see firsthand the production, marketing, logistics, distribution and grain inspection systems working together in harmony to export U.S. coarse grains, ethanol and co-products to international markets.
"Trade teams can help educate new buyers or overcome a specific trade barrier," Sifferath said. "We may bring government officials or industry contacts from a market to help overcome barriers like tariffs, biotechnology approvals or sanitary/phytosanitary issues."
In contrast, missions take USGC members to another country to learn how USGC programs are building export markets. These missions also bring U.S. farmers face-to-face with buyers, importers and government officials to address trade barriers, sanitary-phytosanitary issues and questions about production.
Conferences & Trade Shows
Through a strategic presence at local, regional and international conferences and events, the Council helps build awareness of the competitive advantages of the U.S. grain supply chain.
The Council organizes several major conferences each year – in some cases with other U.S. cooperator organizations, like the U.S. Soybean Export Council (USSEC) – to increase trade through buyers conferences, address industry issues, promote growth opportunities or distribute timely information.
In a similar fashion, the Council's participation in various trade shows around the world, like the India Auto Expo in January, helps to distribute information to buyers and end-users in new markets or industries unfamiliar with the Council and its work.
Business-To-Business Relationships
Building partnerships with industry leaders through direct business-to-business meetings allows the Council to catalyze change for stronger, more dynamic importing industries.
"Business-to-business meetings are where we actually bring the buyer and seller together," Sifferath said. "Events like Export Exchange, Global Ethanol Summit or regional conferences like the Ag Cooperators Conference are all part of this work.
"Sometimes it is as simple as connecting a new potential buyer with a U.S. exporter to talk prices or logistics. Once the introduction is made, the Council steps back and lets the relationship build, hopefully culminating in the export of U.S. agricultural products."
About The U.S. Grains Council
The U.S. Grains Council develops export markets for U.S. barley, corn, sorghum and related products including distiller's dried grains with solubles (DDGS) and ethanol. With full-time presence in 28 locations, the Council operates programs in more than 50 countries and the European Union. The Council believes exports are vital to global economic development and to U.S. agriculture's profitability. Detailed information about the Council and its programs is online at www.grains.org.