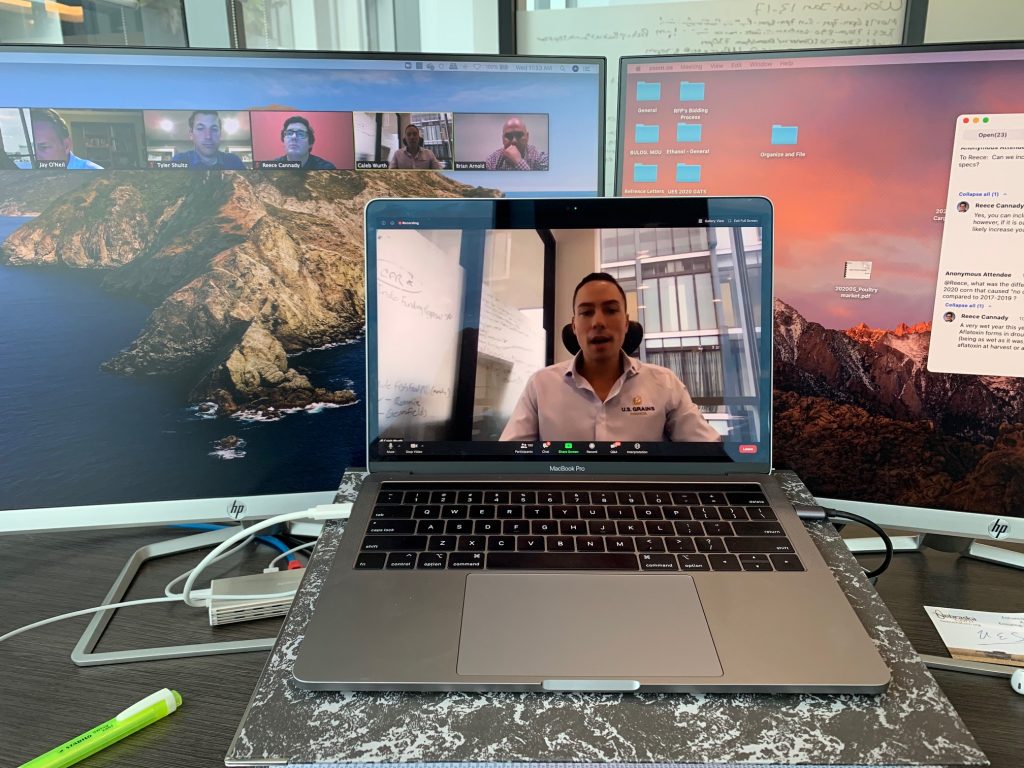 Roughly 220 industry representatives from 10 countries in Southeast Asia joined the first in a series of trade talk webinars organized by the U.S. Grains Council (USGC) to keep customers up-to-speed on international contracting rules and opportunities for buying U.S. corn, sorghum and distiller's dried grains with solubles (DDGS).
"Decreases in tourism and income loss have reduced consumption of protein, but the demand for eggs is maintaining demand for feed in the region," said Caleb Wurth, USGC assistant director of Southeast Asia. "Information transfer is critical to maintaining trade flows during these uncertain times. Grain importers, feed millers and end-users in the region are looking for technical assistance and for innovative ways to maintain the flow of essential commodities to the still-growing feed industry."
The webinar discussed contracting per the Grain and Feed Trade Association (GAFTA), including the rights of both buyers and sellers and the effect of COVID-19 on contract execution. An arbitration expert joined the webinar to share how GAFTA contracts can affect variables like extension of delivery of commodities, cancellation or postponement of delivery, optional origin of delivery and other concerns.
USGC staff also presented results from the 2019/2020 Corn Export Cargo Quality Report, allowing customers to ask questions about this year's quality compared to prior years' and allowing Council staff members to outline expectations for the 2020 U.S. corn crop.
"Customers were interested in what was happening with U.S. ethanol demand, U.S. logistics and U.S. corn quality," said Tyler Schultz, corn export trading manager with Cargill, who presented during the webinar. "Southeast Asia is a large growth market for U.S. corn and corn products, and we want to help customers understand what factors can impact prices and logistics and the benefits of doing business with U.S. companies."
Agribusiness members provided a firsthand perspective of the challenges and opportunities in bulk and container markets that keep the flow of U.S. coarse grains and co-products strong to Southeast Asia.
"Buyers were primarily concerned about supply availability, whether that was corn or DDGS, and what means would be available to ship the grains or co-products," said Brian Arnold, manager of DDGS exports with the DeLong Company, who also presented during the webinar. "The communication between buyers and sellers not only addressed quality, toxin and trade questions, but also facilitated an ongoing dialogue of what the U.S. is capable of doing and what their demand structure looks like and impacts they are experiencing."
Southeast Asia is a trader's market thanks to expansive geography and a mix of multinationals and local participants, all competing to supply growing markets. The region is now the destination for one-third of all U.S. DDGS exports, reaching a record 3.4 million metric tons in 2018/2019, up 10 percent year-over-year and up 233 percent since 2012/2013.
Vietnam has taken advantage of high-quality, new crop opportunities, leading to a number of U.S. DDGS and corn cargoes landing in the last few months. Thus far in the 2019/2020 marketing year (September 2019-March 2020), Vietnam has purchased nearly 668,000 tons of U.S. DDGS in addition to the delivery of 180,000 tons (7.01 million bushels) of U.S. corn, with two more cargoes of U.S. corn on the way. The country also recently approved a pest risk assessment that opens the door for U.S. sorghum sales.
"Quality is a top concern for customers when choosing origin, so understanding the quality of U.S. corn provides more confidence when purchasing U.S. origin," Wurth said. "The Council works to keep customers up-to-date on market opportunities, enhancing how they buy U.S. grains and helping create stronger, more dynamic operations."
The Council plans to conduct more webinars in the series as well as continue engaging one-on-one in programs that expand the use of U.S. coarse grains and co-products in Southeast Asia.
"Relationships are the bridges between conflict and resolution," Wurth said. "Customers appreciate the Council's efforts to assist the industry in Southeast Asia during good times and bad."
About The U.S. Grains Council
The U.S. Grains Council develops export markets for U.S. barley, corn, sorghum and related products including distiller's dried grains with solubles (DDGS) and ethanol. With full-time presence in 28 locations, the Council operates programs in more than 50 countries and the European Union. The Council believes exports are vital to global economic development and to U.S. agriculture's profitability. Detailed information about the Council and its programs is online at www.grains.org.