About A-Teams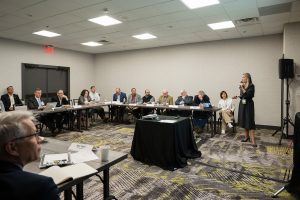 Grain producers and agribusiness representatives serve together on the Council's seven Advisory Teams (A-Teams) that identify opportunities, set priorities and chart the course for the U.S. Grains Council every year. A-Team members serve two-year terms, renewable without limit at the discretion of the Board of Directors.
Each A-Team has a specific focus: Asia, Innovation & Sustainability, Ethanol, Middle East/Africa/South Asia, Trade Policy, Value-Added Programs and Western Hemisphere. Each A-Team has a leader who communicates its activities and recommendations directly to the USGC Board of Delegates and USGC Board of Directors. Learn more about the A-teams and their specific focuses here.
A-Teams are critical for the Council's success because they leverage the perspective, experience, insight and leadership provided by grassroots membership.
A-Team members meet in person twice a year the Council's annual meetings where they review the Council's Unified Export Strategy (UES) and help set directions and priorities for the year ahead. They also have periodic phone calls where they review new developments that affect USGC work around the world.
To apply to serve on an A-Team, fill out the 2023 -2025 A-Team application. 
Please return the completed application to ameliai@grains.org  with A-Teams in the subject line by April 30, 2023.