Global Demand For Ethanol Remains Strong
The U.S. Grains Council is working with partners around the globe to develop and expand the worldwide ethanol market.
Global ethanol consumption has grown from more the 16 billion gallons (61 billion liters) in 2010 to more than 28 billion gallons (106 billion liters) in 2020 (IEA, 2021). Concerns about the environment, carbon reduction and air quality has led governments to utilize ethanol as a readily available resource to provide immediate carbon reduction benefits. 
Ethanol trade totaled 2.4 billion gallons (9 billion liters) in 2021 as countries increasingly recognize the need for ethanol to decarbonize their transportation sectors and meet blending mandates (TDM, 2022). More than 60 countries currently have ethanol blending policies in place – a number that is growing as countries seek to capture the benefits of ethanol. 
The U.S. Grains Council engages governments and industries across the globe to develop the ethanol market and promote sales of U.S. ethanol worldwide. 
Ethanol promotion efforts focus in four areas:
– demonstrating the environmental and human health benefits of ethanol;
– working with local leaders to develop biofuels policies with a role for trade;
– addressing trade barriers and logistical constraints to imports; and
– showing ethanol's value as a source of octane.
Markets with ongoing programs include Brazil, Canada, India, China, Japan, Mexico and Indonesia. The Council also works to promote ethanol for industrial uses, which has become particularly important in COVID-19 mitigation.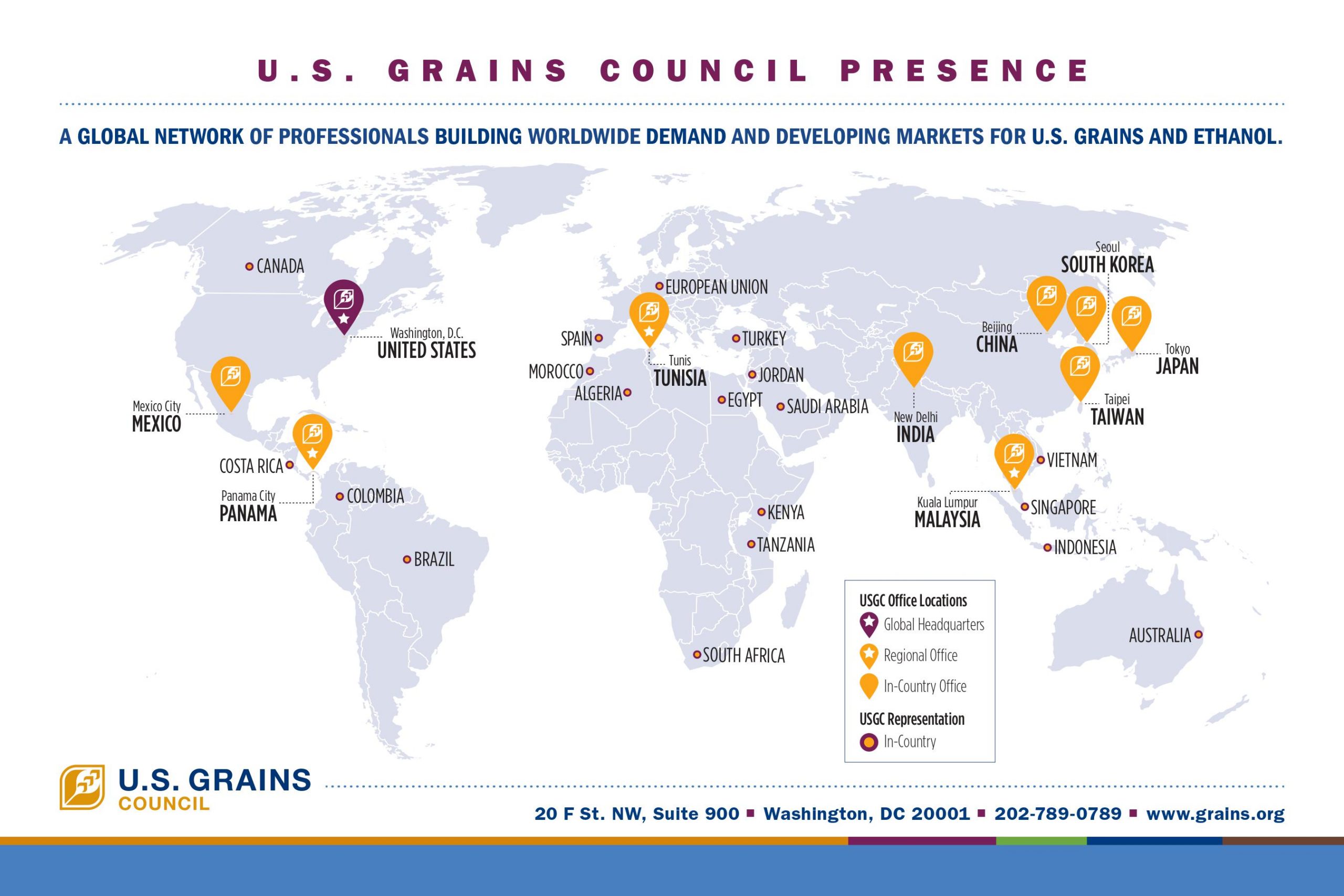 Production and Exports
The United States is an abundant producer of ethanol and is ready and willing to meet foreign market needs. The U.S. Grains Council (USGC) is working with partners in the United States and globally to help develop markets and enable trade for this renewable, clean-burning fuel.
In the United States, ethanol is made primarily from corn. With 205 ethanol plants around the country, the United States is capable of producing an estimated 15.8 billion gallons (59.8 billion liters) of ethanol per year with ample global supply.
In the 2020/2021 marketing year, the United States exported 1.22 billion gallons (434 million bushels in corn equivalent).
Market Development
The U.S. Grains Council works with partners in the U.S. ethanol and corn industries to develop the global ethanol market and promote sales of U.S. ethanol worldwide.
Global ethanol market development efforts are country-specific and focus on:
• implementing successful local biofuels policies.
• the role for trade in meeting biofuels goals.
• environmental, human health and economic benefits of biofuels.
• technical information sharing and education.