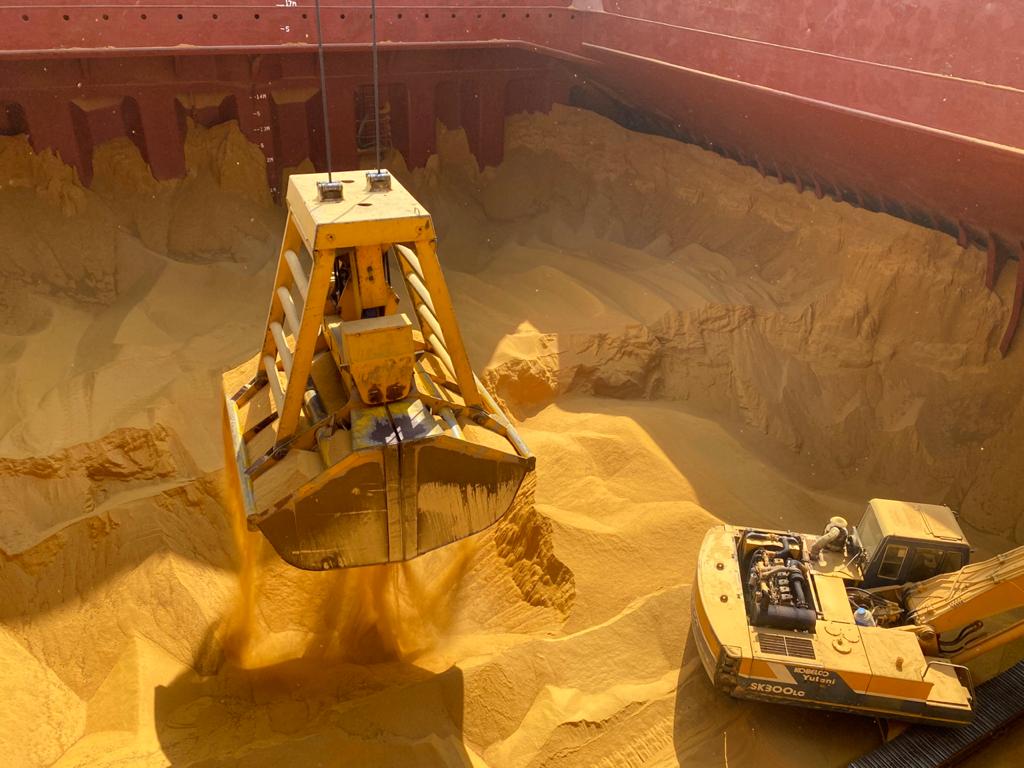 Grab bucket unloaders, commonly referred to as clamshells, worked in early May to unload the third bulk vessel of U.S. distiller's dried grains with solubles (DDGS) delivered in the last 60 days to Vietnam – a welcome visual of continued grain export flows around the world witnessed by U.S. Grains Council (USGC) staff working in the country.
"Following appropriate social distancing guidelines, our Vietnamese representative on the ground was able to watch the partial discharge at Phu My port in South Vietnam," said Manuel Sanchez, USGC regional director for Southeast Asia. "Deliveries like this bulk vessel mark mutual growth in trade between the United States and Vietnam, thanks to our long history servicing this market and resulting close relationships in with importers and end-users."
The Council has worked in Vietnam for more than two decades to build relationships with grain importers like Tan Long group, which imported this vessel of U.S. DDGS. USGC staff worked with them and other end-users in Vietnam in early 2020 to shift from purchasing containers, which were in short supply, to ordering bulk vessels in order to secure an uninterrupted flow of feed ingredients.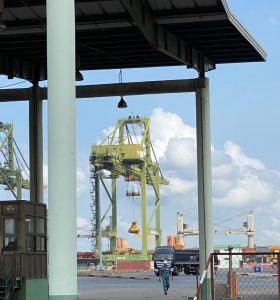 "Feed demand from Vietnam's poultry, swine and aquaculture sectors continues to grow, and so does the demand for U.S. DDGS," Sanchez said. "Watching bulk vessels unload puts that demand front-and-center and illustrates how the grain export business continues to operate despite the global outbreak of COVID-19."
Tan Long group was also part of a Vietnam's Ministry of Agriculture and Rural Development (MARD) trade delegation that visited the Council's Washington, D.C., headquarters office in February 2020. The delegation included leaders of Vietnamese companies who are major importers of corn, DDGS, soybeans, wheat, pork and other agricultural commodities. The group met with representatives of U.S. agricultural cooperators and associations to discuss increasing trade of agricultural products between the United States and Vietnam.
During the delegation's visit, Vietnamese companies signed a memorandum of understanding with the state of Nebraska to purchase various farm products in the next two to three years, including U.S. corn and DDGS. Thus far in the 2019/2020 marketing year (September 2019-March 2020), Vietnam has purchased nearly 668,000 tons of U.S. DDGS.
Vietnam is one of the fastest growing feed and fuel markets in the world, thanks to population and economic growth. A middle class growing in number and influence is increasing demand for meat, milk and eggs. As a result, Vietnam jumped from the 16th largest importer of corn in the world to the third largest in less than a decade.
The Council's technical programs in Vietnam have focused on helping livestock producers and feed millers effectively use U.S. coarse grains and manage their operations efficiently. Trade servicing has also helped customers and importers like Tan Long group gain familiarity with the U.S. grain marketing system, quality and price.
The Council, along with partners in the U.S. sorghum industry and the U.S. Department of Agriculture (USDA), also recently marked the approval of a pest risk assessment that will open the door for U.S. sorghum to enter the Vietnamese market for the aquaculture, poultry and swine industries and high-value uses including pet food and liquor.
"Combined with total gasoline consumption that is projected to grow by nearly 15 percent in the next 36 months, Vietnam will only continue to grow in importance as a trading partner for coarse grains, co-products and ethanol," Sanchez said. "Our foundation of close relationships with end-users will continue to provide the needed understanding to capture this demand for U.S. farmers and agribusinesses."
About The U.S. Grains Council
The U.S. Grains Council develops export markets for U.S. barley, corn, sorghum and related products including distiller's dried grains with solubles (DDGS) and ethanol. With full-time presence in 28 locations, the Council operates programs in more than 50 countries and the European Union. The Council believes exports are vital to global economic development and to U.S. agriculture's profitability. Detailed information about the Council and its programs is online at www.grains.org.