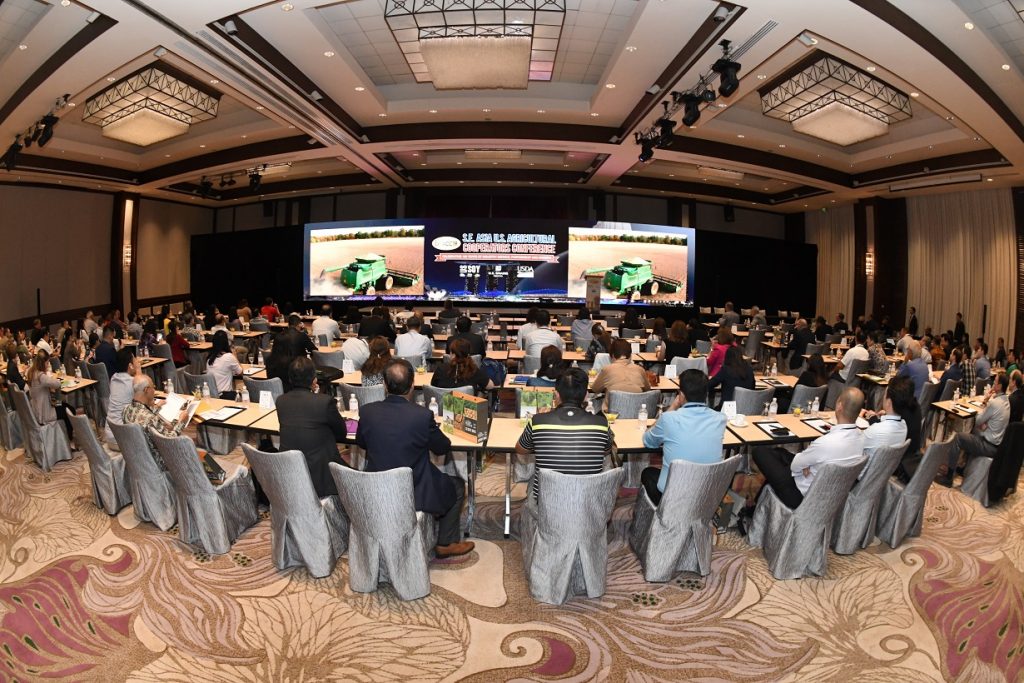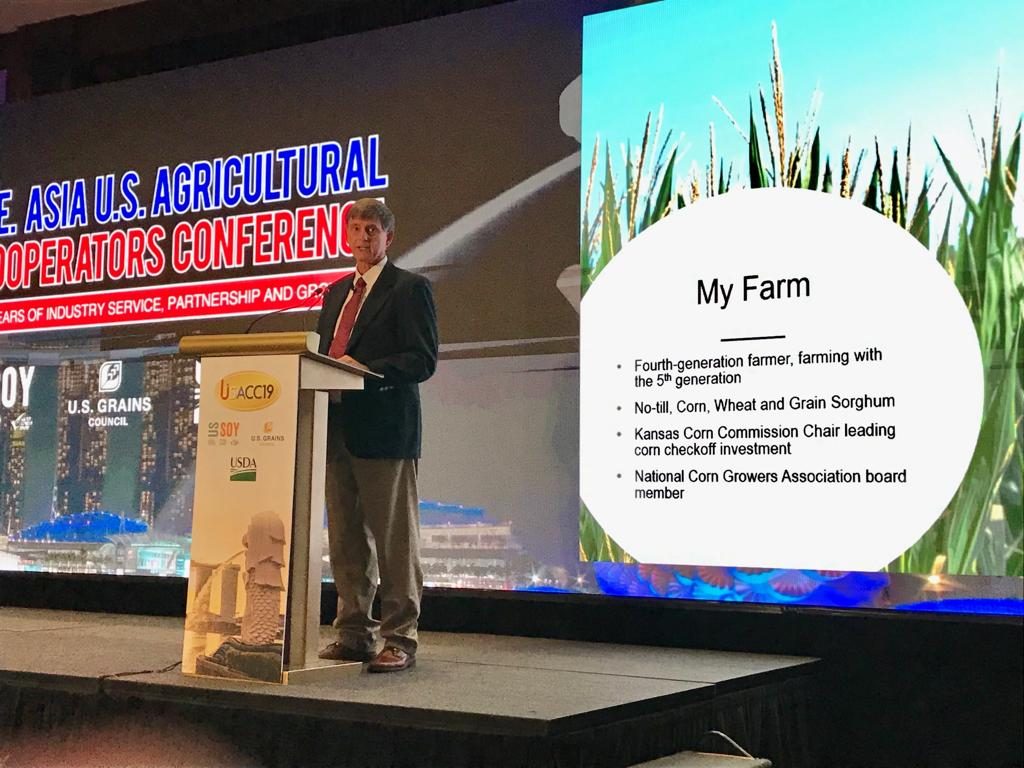 U.S. farmers and their customers in Southeast Asia celebrated decades of working together and the potential for continued partnership and growth during the 2019 Southeast Asia U.S. Agricultural Cooperators Conference in Singapore last week.
The conference was co-sponsored by the U.S. Grains Council (USGC), U.S. Soybean Export Council (USSEC) and the U.S. Department of Agriculture's Foreign Agricultural Service (USDA's FAS).
It brought together 200 guests from 11 countries including major value chain players like importers and exporters of feed grains, oilseeds and co-products; representatives from bulk and container grain transportation; U.S. and local government; and industry representatives. Overall, 79 importer participants represented 61 companies from seven countries and 43 exporter participants represented 18 U.S. organizations. Seven U.S. corn and soybean grower leaders and attended in addition to 11 FAS members representing seven countries.
"We got to see firsthand what the Council does to build markets for us in Southeast Asia. We sat down with buyers and heard their needs and concerns, and we got a better understanding about how trade works," said Dennis McNinch, chairman of the Kansas Corn Commission and leader of USGC Trade Policy Advisory Team (A-team), who spoke during the conference. "Not only did we learn about the opportunities for trade, but we also learned about our competitors in these key markets."
Conference proceedings as well as significant time for side meetings and networking allowed those gathered to share information about the latest market movements and new and emerging uses for both U.S. soybeans and U.S. feed grains, including corn, distiller's dried grains with solubles (DDGS) and sorghum.
"U.S. soybean farmers have been impacted by export uncertainty and trade tensions. And while aid in the short-term is helpful, our farmers need stability and long-term solutions," said Jim Sutter, USSEC chief executive officer. "We are working to provide that stability by building demand and expanding global market access for U.S. soy products, aside from China. This means building on existing relationships abroad and investing in new ones in evolving and growing markets. Southeast Asia is a great example of where we see a future for U.S. soy, building on our shared legacy between USSEC and USGC and in an area where there is continued growth."
U.S. corn and soybean growers traveled to Singapore for the conference to provide their on-the-ground perspectives on the 2019 crop. Grower leaders McNinch; Jacob Parker, North Carolina farmer and director for the United Soybean Board (USB); and Brian Kemp, Iowa farmer and a director for the American Soybean Association (ASA) shared their challenges this growing season due to a wet spring but highlighted their conservation practices and precision technology used to produce sustainably-grown products for international customers.
"Each growing season is different, and every year comes with its own challenges. Over the past year, we have faced fluctuating markets and a complicated planting season, but our commitment to producing sustainable and reliable soy has never wavered," Parker said. "I know this firsthand as a farmer, and I hear it from my neighbors. American farmers are all working hard in our fields to make sure we can continue to deliver a high-quality product to our customers."
In addition, industry speakers discussed global supply and demand outlook for corn, soybeans and co-products, the impact of climate change, foreign animal diseases and disruptive technologies. Representatives from USSEC and USGC also touched on growth opportunities for U.S. corn, barley, sorghum and soybean products in Southeast Asia.
"Southeast Asia is a 116 million ton feed market and growing, and the region's coarse grains and co-product imports have grown to more than six million metric tons," said Manuel Sanchez, USGC regional director for Southeast Asia. "This region buys one of every three metric tons of DDGS exported out of the United States – a statistic that alone tells the story about why we're here doing this work."
The conference also included several panel discussions and presentations specific to agricultural trade in Southeast Asia, including port developments, opportunities for bulk and container shipping and grain storage in sub-tropical and tropical regions.
"Southeast Asia is a growing portion of the world economy with an increasing population that is improving diets and energy usage. Several countries in this region hold strong potential for importing U.S. corn in all forms," said Greg Krissek, Kansas Corn Commission chief executive officer, who also spoke during the conference. "Storing corn in tropical environments requires certain management practices, and a recent study commissioned by the Council and funded in part by Kansas Corn brought additional knowledge for competing in these markets. The findings of this research, conducted by the IGP Institute at Kansas State University in cooperation with a Malaysian grain handler, were also introduced during the conference to share this knowledge with end-users throughout the region."
Meetings like the Southeast Asia U.S. Agricultural Cooperators Conference allow the Council and USSEC members to connect, learn from each other and facilitate trade. These events contribute to the shared belief that exports are vital to global economic development and to U.S. agriculture's profitability.
About The U.S. Grains Council
The U.S. Grains Council develops export markets for U.S. barley, corn, sorghum and related products including distiller's dried grains with solubles (DDGS) and ethanol. With full-time presence in 28 locations, the Council operates programs in more than 50 countries and the European Union. The Council believes exports are vital to global economic development and to U.S. agriculture's profitability. Detailed information about the Council and its programs is online at www.grains.org.