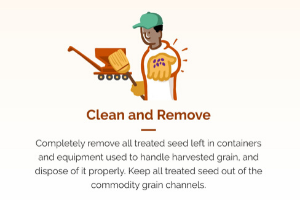 As corn and sorghum pops up in rows across the country, the U.S. Grains Council (USGC) and other grain and seed industry partners remind farmers to check the best practices to keep treated seeds out of export channels. Treated seeds are not a widespread problem but do have the attention of agriculture control officials in export markets.
"U.S. farmers are key partners in helping prevent disruption of exports to overseas markets," said Floyd Gaibler, USGC director of trade policy and biotechnology. "Guarding against the presence of treated seed in commodity shipments requires the due diligence of the entire U.S. grain supply chain."
Seed treatments are part of the technological toolbox that helps U.S. farmers defend against crop diseases, insects, nematodes and other pests. Treated seeds can be easily detected due to their unnatural color. Blue, pink, red or green are common seed-treatment colors.
U.S. law prohibits the addition of treated seeds to commodities for food or feed channels. As a result, strict adherence to guidelines on how to use these effective tools helps ensure treated seed stays in the field and out of export channels.
The Guide to Seed Treatment Stewardship, produced by the American Seed Trade Association and CropLife America, promotes the safe handling and management of treated seed. The information for farmers and seed companies includes guidelines for managing treated seed effectively. Best practices include using separate and dedicated equipment to handle treated seed and following state and local regulations for disposing of excess treated seed.
"Being mindful of the management practices to prevent treated seed from inadvertently entering export channels maintains the positive U.S. reputation for transparency, reliability and quality," Gaibler said. "Like farming itself, there is a science to using treated seeds successfully and appropriately."
Learn more about how to keep treated seeds out of export channels.
About The U.S. Grains Council
The U.S. Grains Council develops export markets for U.S. barley, corn, sorghum and related products including distiller's dried grains with solubles (DDGS) and ethanol. With full-time presence in 28 locations, the Council operates programs in more than 50 countries and the European Union. The Council believes exports are vital to global economic development and to U.S. agriculture's profitability. Detailed information about the Council and its programs is online at www.grains.org.