The U.S. Grains Council (USGC) recognized Jim Zook for his 10 years of service to the organization at its 62nd Annual Board of Delegates Meeting in Sacramento, California, last month. Zook, originally from central Illinois, is the executive director of the Michigan Corn Growers Association (MCGA).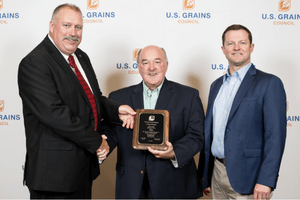 Zook said that the MCGA and the Council had relatively little involvement when he first arrived on the job, adding that after he looked at how global markets were changing at the time, he strove for a higher level of connection between the organizations.
"We have increased our engagement with the Council and the work it's doing because we can see the positive outcomes of that relationship," Zook said. "The Council's utilization of the funding that we provide them really does help multiply our dollars with others so that we can show value back to our growers of what they're getting through our support of the Council."
Bringing international trade teams to Michigan farms and businesses is a particular point of pride for Zook because he said they help growers better understand the importance of their work internationally.
"Sometimes in the moment you don't realize that the communication you're having is probably going to change the world, so to speak," Zook said. "We're really trying to elevate everybody's lifestyle, to provide them with healthier diets and better means to support their families."
Zook believes what makes trade teams so beneficial is allowing buyers and end users to see for themselves where the product is coming from.
"Trade teams are extremely impactful as much for the foreign delegates as they are for the folks hosting those stops," Zook added. "When you get the host to say 'Man, that was absolutely rewarding. Anytime that you need us to do it again, we're there,' it's encouraging."
In his spare time, Zook said he enjoys getting out on the lake with his wife along with his adult stepchildren and their families. Out of the water, he is also an avid pilot and takes his own plane out whenever he has the chance.
Please join the Council in recognizing Jim for his 10 years of service!
About The U.S. Grains Council
The U.S. Grains Council develops export markets for U.S. barley, corn, sorghum and related products including distiller's dried grains with solubles (DDGS) and ethanol. With full-time presence in 28 locations, the Council operates programs in more than 50 countries and the European Union. The Council believes exports are vital to global economic development and to U.S. agriculture's profitability. Detailed information about the Council and its programs is online at www.grains.org.