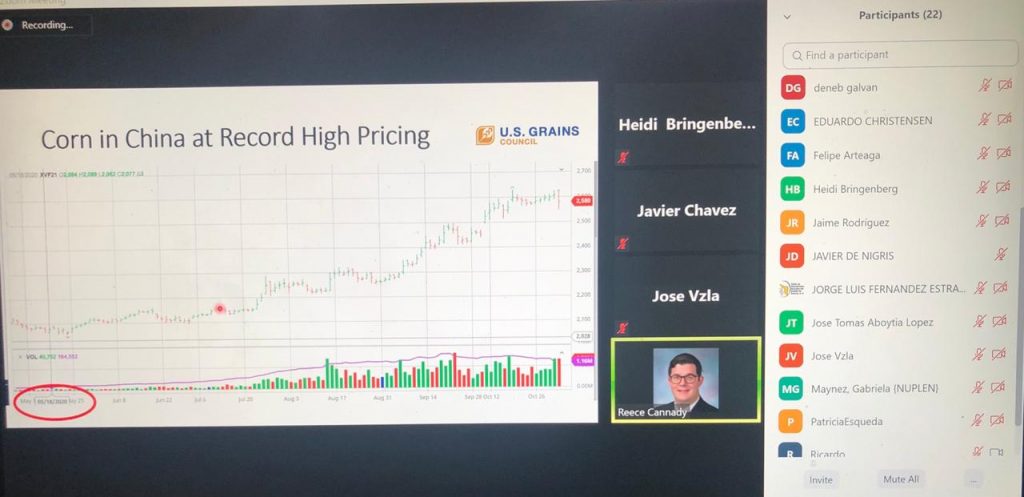 U.S. Grains Council (USGC) staff embarked on a rapidly-produced series of webinars this week to provide context to the U.S. Department of Agriculture's (USDA's) recently released World Agricultural Supply and Demand Estimates (WASDE) report. This direct and targeted engagement helps global grain buyers and end-users better understand the supply and demand factors at play this marketing year and build trust and relationships in key markets for U.S. agricultural exports.
"Exports are driving prices right now, and there's a lot of unknowns for the coming year contributing to some volatility in the market," said Reece Cannady, USGC manager of global trade, who is the lead presenter during the roadshow. "We are providing our insights during a critical time to help buyers navigate this uncertainty by breaking down the WASDE report and assuring them of the reliable supply of quality corn available from U.S. farmers."
The reports have covered corn production, supply and demand, including the current state of the U.S. corn harvest, availability of U.S. corn supplies, and expected exports. Cannady also discussed the changes USDA made this month in the WASDE report, including a slight reduction in corn yields due to tough harvesting conditions, increased corn export expectations and a significant drop in production estimates for Ukraine – a substantial competitor in markets in the Middle East and Africa.
The following is a timeline of this week's webinars breaking down the WASDE report:
Tuesday, Nov. 10
Peru. Three hours after the report's release, Cannady was online with the largest end-users of corn in Peru. Since Jan. 1, 2020, the country imports tariff-free U.S. corn as the tariff rate quota under the United States-Peru Free Trade Agreement (PTPA), phased out in Dec. 31, 2019.
Mexico. Webinar discussions with GRUMA, the largest white corn buyer in Mexico, provided the latest information on U.S. white corn production and supply. GRUMA also participated in a virtual trade team to Illinois, Nebraska, Missouri and Kentucky last month following the Virtual Grain Exchange – all part of the effort to connect corn suppliers with this big buyer.
Wednesday, Nov. 11
South Asia. The Council started a monthly series breaking down the WASDE report for potential customers in India, Bangladesh and Pakistan. The South Asian region is one of the fastest growing in the world. and these webinars provide regular engagement to build rapport with buyers in the region.
Central And South America, The Caribbean. Members of the pork producer associations in Colombia, the Dominican Republic, Ecuador and Panama logged in for a regional webinar, during which Cannady discussed the most relevant supply and demand factors for these geographically-close markets.
Thursday, Nov. 12
Middle East, Africa. Buyers and end-users from Saudi Arabia, Jordan, Oman, United Arab Emirates, Egypt, Lebanon and Turkey joined the discussion during this event. Ukraine is a main competitor in the region, meaning providing information on available U.S. corn supplies is particularly valuable in a year when Black Sea production is weakened.
Mexico. Mexico is the largest market for U.S. corn, responsible for one-third of exports in 2019/2020. The diversity of large destinations for U.S. corn across the country's livestock industries and the well-developed supply chains between the United States and Mexico make it crucial for the Council to keep a large swath of buyers and end-users informed about the WASDE report, current logistics and strategies for the rest of 2020 and beyond.
Colombia. Colombian purchases represented nearly 11 percent of all U.S. corn exports in 2019/2020, making the country the third largest market. One-on-one talks with major importers help maintain steady growth in this market.
Central America. Feed, poultry and livestock producers in Central America conduct annual planning and budgeting during October and November. Discussions with major importers for the region help provide relevant information as these companies make decisions for the upcoming year.
Costa Rica. Costa Rica was the ninth largest market for U.S. corn in 2019/2020, making this Central American market an important destination for not only corn, but also the information Cannady provided on supply and demand.
Friday, Nov. 13
Colombia. Cannady plans to continue talking individually with the largest end-users of corn in Colombia. The U.S.-Colombia Trade Promotion Agreement (TPA) has provided strong market access, but market development work – like this week's webinars – is needed to further capture market share in this growing market.
Costa Rica. Cannady plans to share the most relevant fundamentals affecting supply and demand and the most relevant aspects of the WASDE report during a one-on-one webinar discussion with a major importer in Costa Rica. Doing so helps keep buyers informed and engaged in the market.
Stay up to date on market happenings with the Council's weekly Market Perspectives report.
About The U.S. Grains Council
The U.S. Grains Council develops export markets for U.S. barley, corn, sorghum and related products including distiller's dried grains with solubles (DDGS) and ethanol. With full-time presence in 28 locations, the Council operates programs in more than 50 countries and the European Union. The Council believes exports are vital to global economic development and to U.S. agriculture's profitability. Detailed information about the Council and its programs is online at www.grains.org.