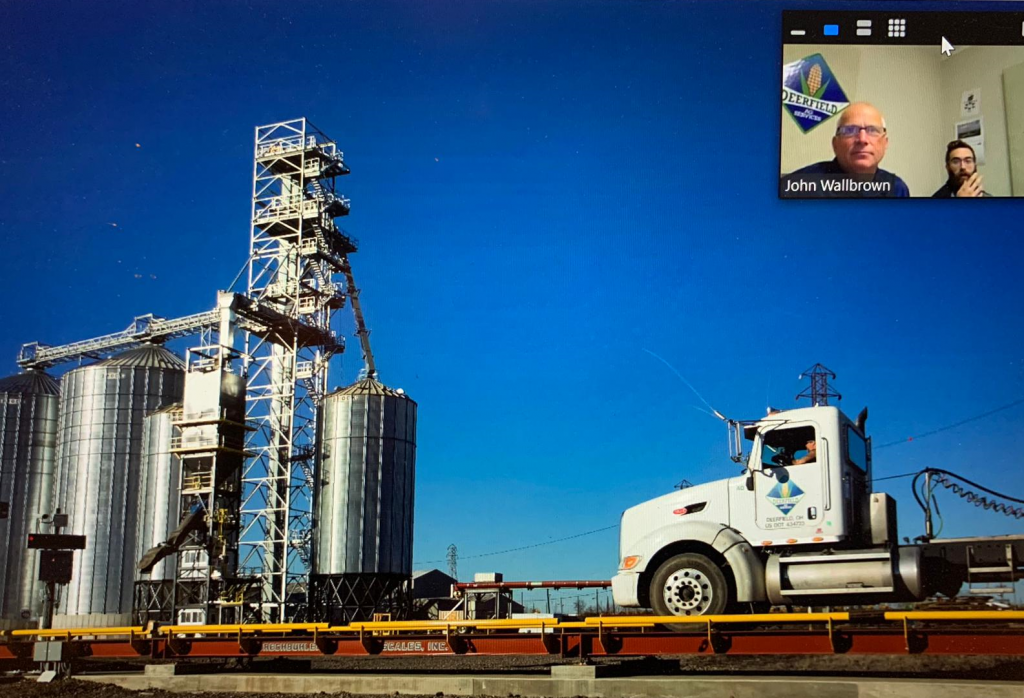 Nineteen trade teams are making their way across the United States – virtually – Thursday to get a better look at the 2020 corn and sorghum crops being harvested and meet with farmers, ethanol plant managers and more.
The online events – a combination of meeting, webinar and live, interactive session – were arranged to accompany the first-ever U.S. Grains Council (USGC) Virtual Grain Exchange, held on Oct. 13 and Oct. 14, with more than 1,200 global grain market registrants.
"In a normal year, these teams would be in the fields and touring ethanol plants as a part of the Council's marketing and development toolbox, but as we know, this is not a normal year," said Cary Sifferath, USGC senior director of global programs. "As with many of our programs, we've adapted to bring these visits online with the help of our checkoff partners who stepped up to help us showcase that grain production and exports are still very active."
Through a series of videos, teams of grain buyers, end-users and policy makers from 54 countries were able to "tour" farms and ethanol plants. Several teams also visited elevators or river terminals and experienced grain grading.
Eleven corn state checkoffs – those in Colorado, Illinois, Indiana, Iowa, Kansas, Maryland, Missouri, Nebraska, North Dakota, Ohio and South Dakota – and the United Sorghum Checkoff Program, Kansas Grain Sorghum Commission and Texas Grain Sorghum Association participated in creating these experiences to help attendees build a baseline understanding of the benefits of U.S.-origin grains.
Though typically an in-person, active experience, the basic premise of trade team visits transferred online: see the U.S. grain value chain in action, how a grain elevator operation works, the productivity of an ethanol plant, how the grain inspection process provides consistency, or the transportation system's efficiency.
"By allowing our customers to see the U.S. grain and export systems, the Council helps enable short-term sales while cultivating long-term, loyal customers," said Ryan LeGrand, USGC president and CEO. "Showing end-users that U.S. farmers take real pride in their crops and are committed to providing a high-quality product makes a real difference in growing the global grain market."
Council staff worked with its members to design each team agenda to meet specific goals, including educating buyers, addressing questions, and connecting buyers and sellers. The Council's member organizations then helped identify the entities and individuals in their local areas that could share their work and help achieve those goals.
"This year was unique in that our state checkoff and sorghum partners truly went the extra mile to help us navigate the challenges a global pandemic brings," Sifferath said. "While we'd all like to conduct these events in person, the virtual option gives us real opportunities to reach many more customers than we could normally accommodate.
"We truly thank all of those who did so much to make both the Virtual Grain Exchange and the associated trade team events possible."
Over the coming weeks, view trade team videos on USGC's Facebook, Instagram (@usgrains) and Twitter (@usgc) channels to see the breadth of the global grain chain and how important it is to the customers, end-users and policy-makers who traveled virtually through U.S. farm country.
About The U.S. Grains Council
The U.S. Grains Council develops export markets for U.S. barley, corn, sorghum and related products including distiller's dried grains with solubles (DDGS) and ethanol. With full-time presence in 28 locations, the Council operates programs in more than 50 countries and the European Union. The Council believes exports are vital to global economic development and to U.S. agriculture's profitability. Detailed information about the Council and its programs is online at www.grains.org.