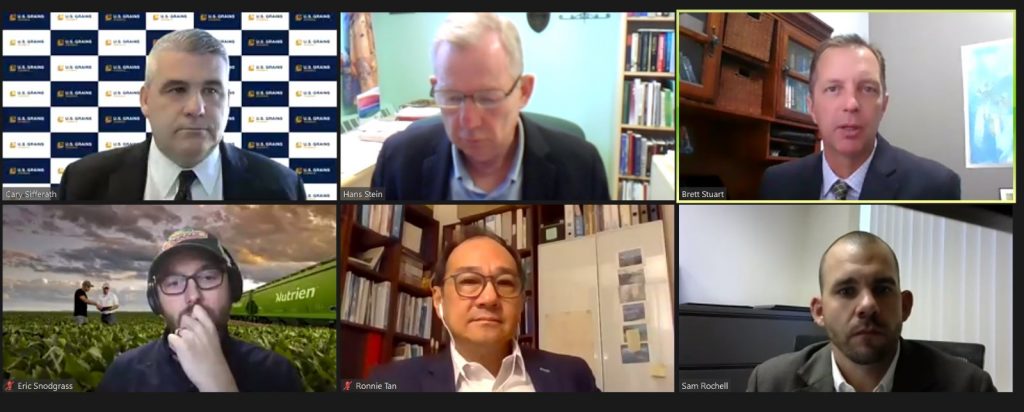 The U.S Grains Council's (USGC's) Virtual Grain Exchange kicked off this week with more than 1,200 registrants, including international buyers and end-users of coarse grains and co-products from 54 countries and members of the U.S. grain export value chain. Attendees heard from experts on key export topics, met in a virtual trade show and held one-on-one meetings focused on near-term sales.
While in-person events to bring grain and ethanol buyers and end-users from around the world to meet directly with U.S. farmers and agribusiness representatives usually occur routinely, this year's global pandemic presented a unique challenge that threatened to stifle these activities. With the aid of technology, the Council's staff in the United States and around the world worked creatively to illustrate that trade continues despite the pandemic. During the conference, a mix of prepared videos and real-time discussions highlighted the U.S. corn, sorghum and barley crops and explored factors affecting production, supply and distribution.
"We are grateful – now more than ever – to be able to connect to our stakeholders globally," said USGC Chairman Jim Raben in his opening remarks. "The global pandemic has caused ripple effects across all our lives, but the Council's mission is clear – to develop markets, enable trade and improve lives – and your presence here allows us to do so."
While attending the Virtual Grain Exchange, participants had opportunities to meet with U.S. corn, sorghum, barley and co-product suppliers to directly do business and make connections to facilitate future sales.
The online platform allowed attendees to take part in a virtual exhibit hall where they could learn about new advances in technology, crop production and the various businesses that make up the farm-to-freight export chain.
Attendees heard from U.S. Undersecretary of Agriculture for Trade and Foreign Agricultural Affairs Ted McKinney, who keynoted the event in both morning and evening sessions.
"The U.S. agricultural industry remains committed to meeting trade expectations," McKinney said. "Despite COVID-19, I have not seen the trade flow stop. All we seek is a fair trading relationship. Please know we go to great lengths to make sure the U.S. government is being seen as a great trading partner."
Ryan LeGrand, USGC president and CEO, kicked off the second session saying, "The U.S. Grains Council believes the availability of accurate, consistent and comparable information is in the long-term interests of all concerned and facilitates increased trade around the world."
Following their prepared remarks, speakers joined moderator Cary Sifferath, USGC senior director for global programs, for an attendee question-and-answer session. They included:
• Jason Sagebiel, Stone X Group, Inc. renewable fuels regional director, who offered an overview of global feed grains;
• Florentino Lopez, United Sorghum Checkoff Program's executive director, who shared the state of the U.S. sorghum industry;
• Guy Hindley, managing partner-dry cargo at Howe Robinson Partners, who presented the latest update on global bulk and container freight operations;
• Brett Stuart, president, Global AgriTrends, who spoke about how animal production and trade flows have been impacted by COVID-19 and African Swine Fever; and
• Eric Snodgrass, principal atmospheric scientist at Nutrien Ag Solutions, who examined global feed grain production through the lens of global weather patterns.
Corn co-product advances in swine, poultry and aquaculture diets were the focus of a second general session featuring Dr. Hans Stein, professor of nutrition at the University of Illinois; Dr. Sam Rochell, assistant professor of poultry nutrition at the University of Arkansas; and Ronnie Tan, USGC regional aquaculture consultant in Southeast Asia.
Kim Atkins, USGC vice president and COO, closed the session by reiterating that the U.S. grains sector is excited to be working with end-users around the world, despite current conditions.
"In the United States, our farmers and agribusinesses have proven time and time again that we are resilient, and we will continue to work tirelessly to be the world's most reliable supplier of grain around the world," Atkins said. "Our industry is committed to innovation, sustainability and to building opportunities to work together with our partners around the globe as we all strive to feed a growing population."
More information about the meeting is on soc.al media at USGC's Facebook, Instagram (@usgrains) and Twitter (@usgc).
About The U.S. Grains Council
The U.S. Grains Council develops export markets for U.S. barley, corn, sorghum and related products including distiller's dried grains with solubles (DDGS) and ethanol. With full-time presence in 28 locations, the Council operates programs in more than 50 countries and the European Union. The Council believes exports are vital to global economic development and to U.S. agriculture's profitability. Detailed information about the Council and its programs is online at www.grains.org.