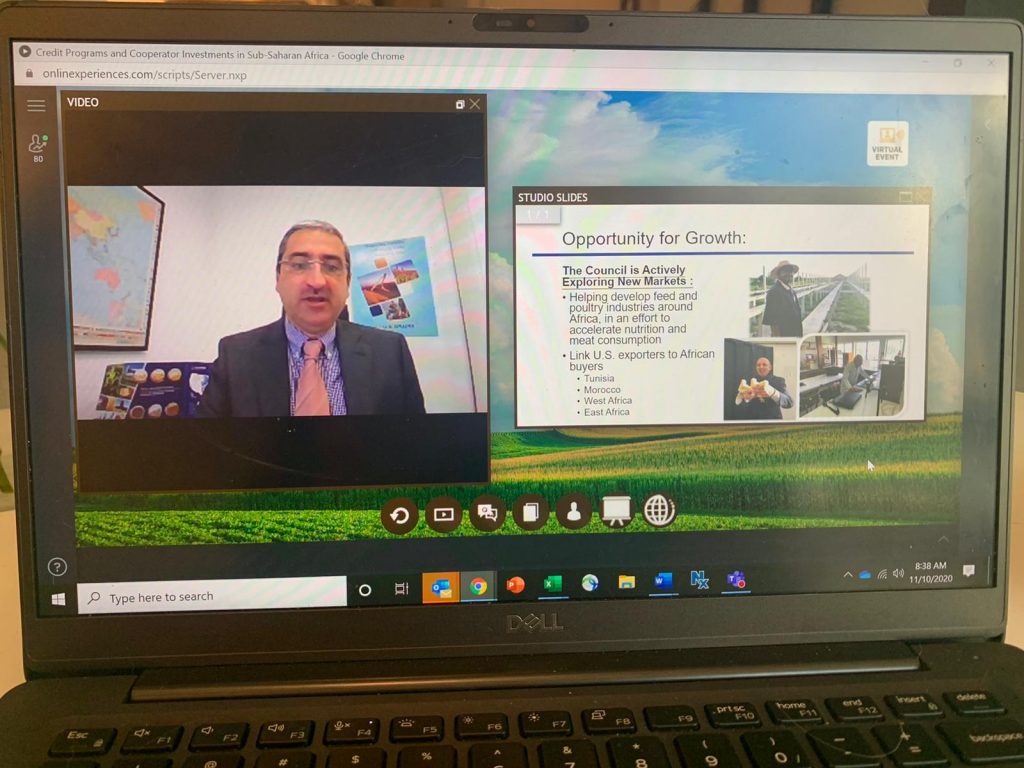 The U.S. Grains Council (USGC) collaborated with the U.S. Soybean Export Council (USSEC) and the World Initiative for Soy in Human Health (WISHH) to hold a joint virtual conference this week with stakeholders in sub-Saharan Africa. The African Trade Exchange strived to introduce and strengthen U.S. trade relations and featured industry experts offering information to address the needs of the region's livestock and animal feed industries.
The virtual platform brought together attendees from West Africa – including from Cameroon, Togo, Burkina Faso, Ghana, Senegal, Ivory Coast and Nigeria – and East Africa – including Kenya and Tanzania – with U.S. feed industry representatives and exporters. Speakers helped participants leave with a better understanding of the U.S. coarse grain and soy supply chains along with ideas on how to address constraints to growth like securing credit, enhancing feed production and managing quality.
"This conference provided a unique opportunity to expose the feed and livestock producers in the region to key insights from the U.S. feed grains industry," said Ramy Taieb, USGC regional director for the Middle East and Africa. "The Council and our partner cooperators also reiterated our focus on helping to increase capacity in the region and address and alleviate key market access issues."
In remarks to the conference, Taieb highlighted the Council's work to enhance the African feed industry through programs at the USGC Center for Feed Manufacturing in Tunis, Tunisia. The Center brings together topics in feed management and production in seminars with practical hands-on training in its feed mill – which provides trainees with the opportunity to enhance technical understanding of commercial feed mill equipment, including both hammer and pellet mill technology.
Breakout sessions during the virtual conference this week further expanded on these topics. Dirk Maier, professor of agricultural and biosystems engineering and director of the Consortium for Innovation in Post-Harvest Loss and Food Waste Reduction at Iowa State University, focused on the benefits of prioritizing uniform feed quality and good manufacturing practices. Maier played a key role in the development of the Tunisia-based feed center's curriculum.
"Despite growing protein demand across East and West Africa, much of the feed industry relies on on-farm mixing practices that can hinder the overall quality and efficiency of the broader feed sector," Taieb said. "Improved commercial practices through these outreach efforts help enhance quality control and increase feed production as well as profitability."
Following the conference, the Council will continue its dual-purpose programming in the region that addresses challenges hindering capacity development within poultry and livestock industries and trade servicing for the use of coarse grains and co-products. This work continues a long tradition of helping countries build their economies while opening the flow of food products from trading partners.
"This week's conference was an inaugural event, but it will not be the Council's last," Taieb said. "We believe that the sub-Saharan African feed industry has huge potential for long-term growth in feed grain demand, and we will continue to bring together key stakeholders in the feed sector to support the development of these industries across Africa."
About The U.S. Grains Council
The U.S. Grains Council develops export markets for U.S. barley, corn, sorghum and related products including distiller's dried grains with solubles (DDGS) and ethanol. With full-time presence in 28 locations, the Council operates programs in more than 50 countries and the European Union. The Council believes exports are vital to global economic development and to U.S. agriculture's profitability. Detailed information about the Council and its programs is online at www.grains.org.