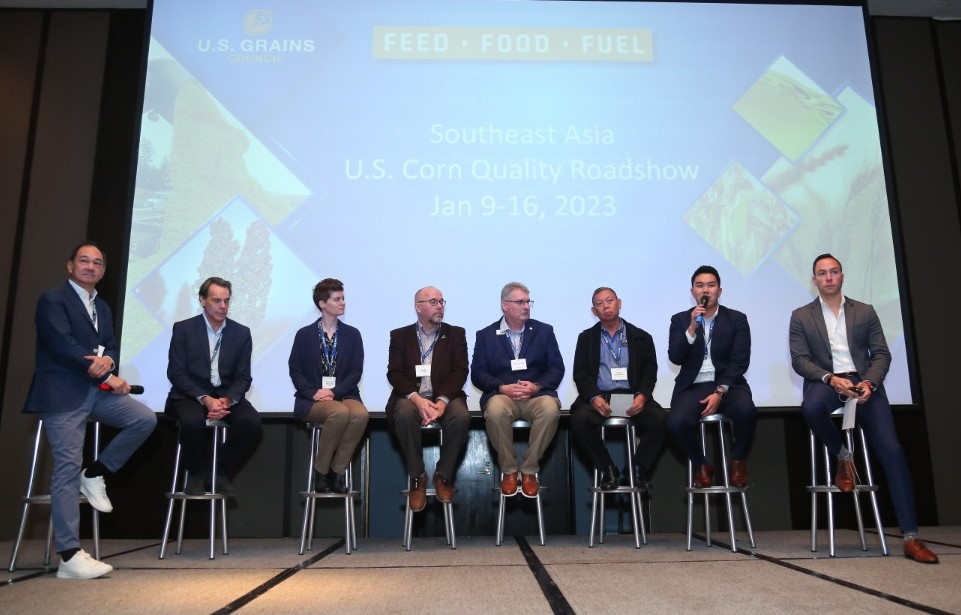 To present the 2022-2023 Corn Harvest Quality Report, discuss opportunities for coarse grains and co-products and break down barriers to increased demand in the four major markets of Southeast Asia, the U.S. Grains Council (USGC) recently conducted a corn quality roadshow in the region.
With stops in the Philippines, Thailand, Vietnam and Indonesia, traders and end-users in the region had the opportunity to learn more about corn and co-product supply and demand; U.S. crop harvest and quality; and distiller's dried grains with solubles (DDGS) uses and value in terrestrial species and aquaculture. Ohio Corn and Wheat representatives also joined the roadshow, sharing grower perspectives with attendees.
"In addition to the technical information, the audience was most interested in our growers' planting intentions. Questions about input availability, demand from biofuels and yield potential were at the top of mind among our participants," said Caleb Wurth, USGC Southeast Asia and Oceania regional director.
Along with hosting seminars at each of the stops, the roadshow included high level meetings with U.S. and Southeast Asian partner organizations including USDA's Foreign Agricultural Service (FAS), the National Association of State Departments of Agriculture (NASDA) and the Philippine Association of Feed Millers, Inc. (PAFMI). These meetings were designed to find synergies and solidify partnerships between the Council and these relevant stakeholders as 2023 marketing programs begin. The group also inspected the site of the Council's DDGS Digestibility in Pacific White Leg Shrimp trials that took place near Ho Chi Minh City in 2022. These trials, when published, will greatly expand the knowledge of DDGS use in aquaculture.
"In line with our chairman's theme this year of Live the Mission, 2023 will be a year focused on leveraging partnerships to achieve our goals in Southeast Asia and Oceania. This mission was an excellent kickoff to those efforts," Wurth said.
With stakeholder engagement being the main driver for the roadshow, Council staff used this as a time to discuss technical and trade topics with both industry and governmental partners. The roadshow was attended, in person, by 391 trade partners and end users. The office expects sales of and market demand for U.S. coarse grains and co-products to increase as a result of this program.
About The U.S. Grains Council
The U.S. Grains Council develops export markets for U.S. barley, corn, sorghum and related products including distiller's dried grains with solubles (DDGS) and ethanol. With full-time presence in 28 locations, the Council operates programs in more than 50 countries and the European Union. The Council believes exports are vital to global economic development and to U.S. agriculture's profitability. Detailed information about the Council and its programs is online at www.grains.org.