Last week, farmers from across the U.S. traveled to Panama and Colombia as part of the U.S. Grains Council's (USGC's) Grain Export Mission (GEM) to learn about Council programming in the Latin America region.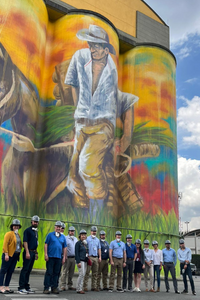 The GEM is designed to show Council members – specifically those who are becoming more engaged in market development – how the Council carries out its mission of developing markets, enabling trade and improving lives.
"I always appreciate the opportunity to host our members, especially in missions like this in Latin America. Not only does it provide us the opportunity to showcase how we maximize their investment, but we also gain valuable feedback on USGC programming and strategy," said Marri Tejada, USGC Latin America regional director.
This year's GEM trip to Panama and Colombia provided the opportunity for participants to gain a better understanding of the importance of trade and how that comes into play at their individual farming operations. Participants learned about the agricultural and fuel markets in the countries, visited feed production facilities, research centers, fuel terminals and a dairy operation. Along the way, participants met with their industry counterparts in Panama and Colombia.
While in Panama, GEM participants were able to see a USGC program firsthand during the Latin America Regional Nutrition Conference. The two-day event welcomed 80 nutritionists from the top feed and livestock producers across Latin America to learn more about supply and demand of corn, sorghum, barley and distiller's dried grains with solubles (DDGS); the 2022/23 Corn Harvest Quality Report; and the use of DDGS, sorghum and barley in the diets of various animal species.
The conference showcased the possibilities that come with diversifying ingredients, like including sorghum and barley in diets. It also increased participants' awareness of new technologies and DDGS products and illustrated how they can be used with different species.
A handful of the growers presented during the crop quality portion of the conference, serving as highly effective trade ambassadors that helped open the eyes of international buyers to innovations in agricultural practices and how the U.S. grain chain focuses on quality.
"Having four participants from GEM on the corn quality rollout panel during the conference was a great way to have them plugged into a program and for them to share their insights and experiences from this past growing experience. It also opened the door for more conversations with all the producers and attendees during the break and reception," said Ellen Zimmerman, USGC director of industry relations.
Educational opportunities like GEM are just one way the Council lives its mission of developing markets, enabling trade and improving lives. Member involvement is critical to form relationships between the Council and customers around the world.
About The U.S. Grains Council
The U.S. Grains Council develops export markets for U.S. barley, corn, sorghum and related products including distiller's dried grains with solubles (DDGS) and ethanol. With full-time presence in 28 locations, the Council operates programs in more than 50 countries and the European Union. The Council believes exports are vital to global economic development and to U.S. agriculture's profitability. Detailed information about the Council and its programs is online at www.grains.org.