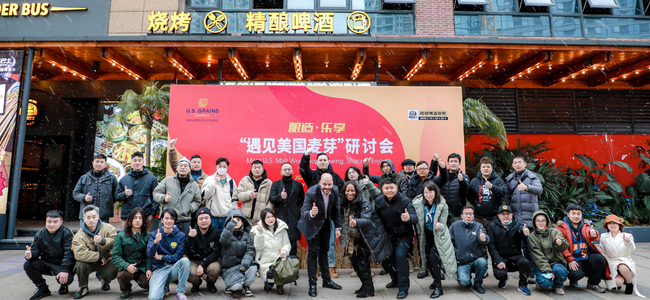 Since 2019, the U.S. Grains Council's (USGC's) China office has found opportunities to promote U.S. barley malt in the country. Most recently, the team organized a webinar for malt importers and brewers across China, in addition to a hybrid Meet U.S. Malt workshop to help them better understand the U.S. malt quality characteristics and market.
"We have developed a variety of programs, such as webinars, workshops, trade shows and expos in the past three years, which tend to give China's beer industry more choices in brewing ingredients and improve their understanding of the quality characteristics in U.S malt," said Wennie Liu, USGC program manager in China.
The Malt Market Webinar welcomed around 50 people from China's craft beer industry. Attendees heard from a U.S. maltster, producer and brewer on their experiences with the U.S. malt market in addition to several Chinese brewers and a malt importer.
"We organized this webinar for malt importers and brewers in China, emphasizing U.S. malt price, production, market trends and the U.S. craft beer industry. We hope this information will give those seeking to import U.S. malt more market details," Liu said.
The most recent edition of the Meet U.S. Malt workshop was held on Jan. 15 in Changsha, Hunan Province, where 12 leading microbreweries in China were invited to brew a special batch of beer using U.S. malt. Lashonda McLeod Harper, Director of Agricultural Trade Office, U.S. Embassy Beijing and Manuel Sanchez, USGC China director, presented at the event and gave opening remarks.
The owner or chief brewer of each of the breweries was encouraged to share his or her experience with U.S. malt quality and its brewing performance at the workshop. Additionally, four speakers gave presentations on malt characteristics, selecting malt for different styles of beer and how to develop a recipe with U.S. malt.
The program attracted 60 in-person attendees and another 500 participants took part via live stream.
"We will continue working with China's beer industry on seminars, trade shows and other promotion opportunities to expand the U.S. malt market in China and to help increase awareness of U.S. barley malt among Chinese breweries," Liu said.
About The U.S. Grains Council
The U.S. Grains Council develops export markets for U.S. barley, corn, sorghum and related products including distiller's dried grains with solubles (DDGS) and ethanol. With full-time presence in 28 locations, the Council operates programs in more than 50 countries and the European Union. The Council believes exports are vital to global economic development and to U.S. agriculture's profitability. Detailed information about the Council and its programs is online at www.grains.org.