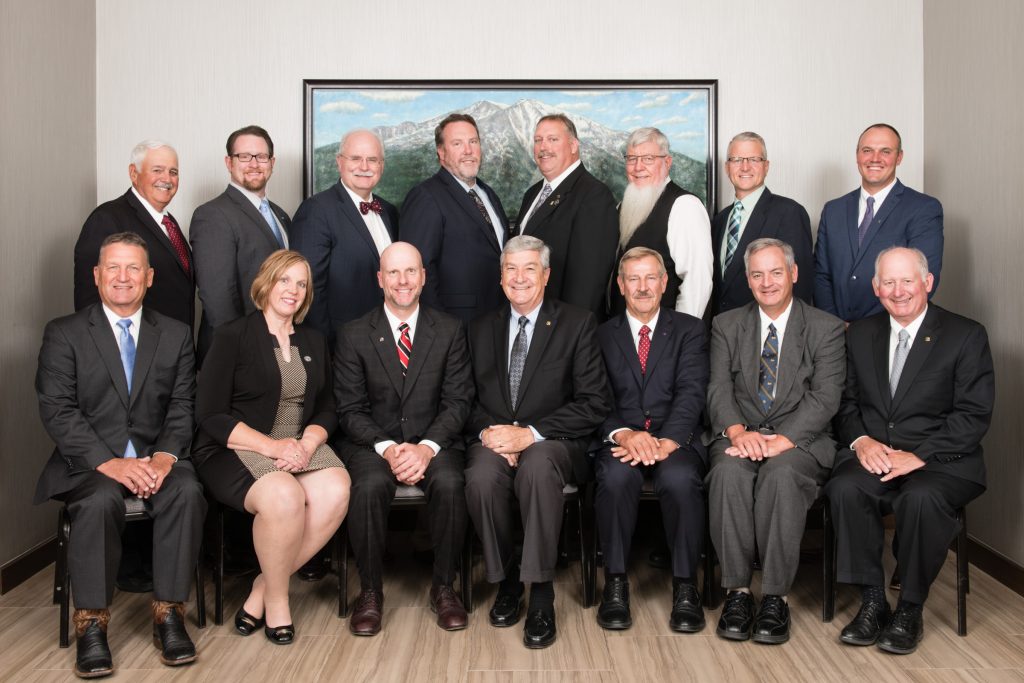 In a global trade environment challenged by tariffs and tensions, emerging markets for grains and ethanol provided a bright spot for U.S. farmers, agribusinesses and industry officials at the U.S. Grains Council's 58th Annual Board of Delegates meeting, held this week in Denver.
"We gather at this meeting to discuss the dynamic and developing environment for global grains trade as well as demand opportunities for feed grains and their co-products around the world," said Deb Keller, USGC chairman and farmer from Iowa. "Our goal is always to better understand agriculture's role in world trade and how to maintain good working relationships with our international trading partners while we explore new export frontiers."
Navigating the new global trade landscape while maintaining and strengthening relationships with key partners, including Mexico and China, was front and center as the meeting kicked off Monday with keynote speaker Ambassador Carla Hills, a former U.S. Trade Representative, who shared her perspective on how agriculture fits in today's global trade puzzle.
"Global trade is the most effective development tool we have," Hills said. "It enlarges economic opportunities for poor countries. It is not just a humanitarian effort; it creates tomorrow's trade partners. One might call it an act of enlightened self interest.
The Council's Middle East and Africa Director Ramy Taieb and Manager of Global Trade Alvaro Cordero spoke on a panel on Tuesday, moderated by the Council's Senior Director of Global Strategies Kurt Shultz. They highlighted new demand in Saudi Arabia for U.S. sorghum and distiller's dried grains with solubles (DDGS) as well as near-term opportunities throughout the Middle East developed following years of work by Council staff and members to set the stage with local customers.
"The Middle East and North Africa is a vast area with a lot of complexity," Taieb said to the group. "However, from the perspective of the U.S. producer, it's an important area of the world that encompasses 17 countries importing grains products valued at more than $1.8 billion."
On Wednesday, the USGC delegates elected Jim Stitzlein, manager of market development for Consolidated Grain and Barge Co., as the organization's chairman. In addition to Stitzlein's ascendency, the Council's delegates elected Jim Raben of Illinois Corn Marketing Board as Secretary/Treasurer, sector directors and three at-large directors.
"The diversity of the U.S. Grains Council is key to the work it does," Stitzlein said, accepting his new role from the delegate body. "From farmers to traders and agribusinesses, each role is important in the Council's mission of developing markets, enabling trade and improving lives. Working with those diverse perspectives within the global trade market is one way to encourage effective and efficient trade in both supply and price for international customers, steady growth in world markets and political stability throughout the world."
At the meeting, the Board of Delegates also elected new members of the Council's Board of Directors. That body now includes:
Jim Stitzlein, Consolidated Grain and Barge Co., Chairman
Darren Armstrong, Corn Growers Association of North Carolina, Inc., Vice Chairman
Jim Raben, Illinois Corn Marketing Board, Secretary/Treasurer
Deb Keller, Past Chairman, Iowa Corn Promotion Board
Thomas N. Sleight, President and CEO
Ray Defenbaugh, Big River Resources LLC, Agribusiness/Ethanol And Co-Products Sector Director
Tadd Nicholson, Ohio Corn & Wheat Growers Association, Checkoff Sector Director
Greg Hibner, J.D. Heiskell Hawkeye Gold Office, Agribusiness Sector Director
Tom Mueller, Illinois Corn Marketing Board, Corn Sector Director
Mark Seastrand, North Dakota Barley Council, Barley Sector Director
Charles Ray Huddleston, United Sorghum Checkoff Program, Sorghum Sector Director
Ryan Wagner, South Dakota Corn Utilization Council, At-Large Director
Duane Aistrope, Iowa Corn Promotion Board, At-Large Director
Joshua Miller, Indiana Corn Marketing Council, At-Large Director
Chad Willis, Minnesota Corn Research & Promotion Council, At-Large Director.
The new Board of Directors seated Wednesday will serve until July 2019.
For more information on additional speakers, activities and other information about the meeting read:
About the U.S. Grains Council
The U.S. Grains Council develops export markets for U.S. barley, corn, sorghum and related products including distiller's dried grains with solubles (DDGS) and ethanol. With full-time presence in 13 key markets and representatives in an additional 15 locations, the Council operates programs in more than 50 countries and the European Union. The Council believes exports are vital to global economic development and to U.S. agriculture's profitability. Detailed information about the Council and its programs is online at www.grains.org.