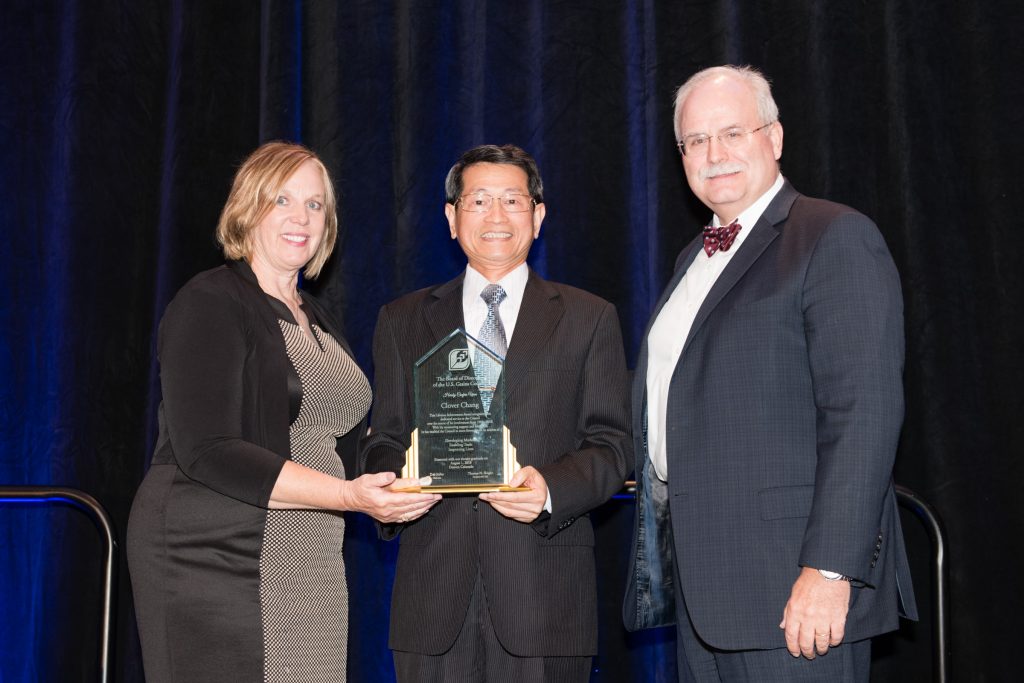 The U.S. Grains Council Board of Delegates officially awarded Clover Chang, long-time director in Taiwan, the organization's Lifetime Achievement Award during the 58th Annual Board of Delegates Meeting this week.
Based in Taipei, Chang has worked for 34 years to identify and address trade, technical and policy factors relevant to building and maintaining the market for U.S. coarse grains and related products in Taiwan. He will retire effective Aug. 10, with Michael Lu hired to take on the role.
"It has been an honor to work with Clover over so many years, and we've relied heavily on his understanding of the unique political, economic and trade factors that affect the Taiwanese market," said USGC Chairman Deb Keller.
"We at the Council are most appreciative of Clover's service. It is bittersweet to lose someone of Clover's magnitude because he has been a key part of our outreach. His innate understanding of the market in Taiwan has attributed to his ability to handle the U.S. coarse grain industry with both grace and diplomacy."
In remarks to the meeting attendees, Chang emphasized that the export of U.S. coarse grains and co-products and the Council's work to help develop Taiwanese feed and livestock industries has resulted in a win-win situation for both countries. He said he has watched how the Council's activities in Taiwan have evolved from focusing on technical programs, to trade servicing, to working on trade policy. At the same time, the Council's focus has shifted from feed, to biomaterials, to food and then to fuel.
Chang has also worked to promote environmentally-friendly packaging materials made from U.S. corn-based poly-lactic acid (PLA) and high beta-glucan U.S. barley for various food products in Taiwan. Looking forward, he told delegates, work to achieve ethanol adoption in Taiwan will aim for similarly beneficial outcomes – improving air quality and public health and reducing greenhouse gas emissions.
Above all, Chang emphasized the importance of the personal connections built between Taiwanese customers and U.S. producers, agribusinesses and Council staff to creating a large and loyal market for U.S. coarse grains and co-products.
"Relationship building; it takes time, with heart," Chang said in his address to the delegation, thanking the USGC membership for their support of the Council's work in Taiwan. "Without your support, I can do nothing."
Prior to the Council, Chang – who holds a master's degree in animal science – worked for the Cyanamid Taiwan Corporation, starting as a sales representative and was promoted to a product manager in 1981. He also previously worked for the Taiwan government's Livestock Research Institute.
About the U.S. Grains Council
The U.S. Grains Council develops export markets for U.S. barley, corn, sorghum and related products including distiller's dried grains with solubles (DDGS) and ethanol. With full-time presence in 13 key markets and representatives in an additional 15 locations, the Council operates programs in more than 50 countries and the European Union. The Council believes exports are vital to global economic development and to U.S. agriculture's profitability. Detailed information about the Council and its programs is online at www.grains.org.