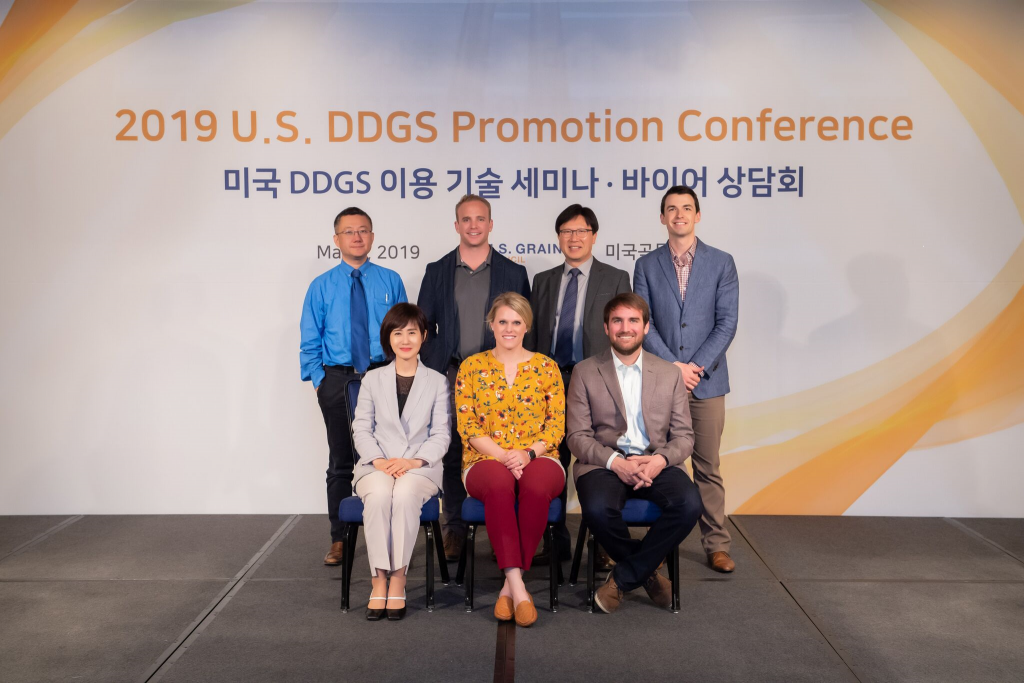 Through programs promoting U.S. distiller's dried grains with solubles (DDGS) in livestock and poultry diets and by bringing Korean customers to the 2018 Export Exchange in the United States, the U.S. Grains Council has increased the feed inclusion rate of U.S. DDGS and achieved a new import record for U.S. DDGS each year for the past six consecutive years.
The main impediments to expanding DDGS imports in the South Korean market were a lack of knowledge surrounding the nutritional and economic value of the product, as well as a lack of connections between U.S. suppliers and Korean importers. By inviting U.S. DDGS nutrition experts and U.S. suppliers to Korea, the Council was able to help the Korean feed industry properly evaluate DDGS in their feed rations, resulting in expanded trade between the two countries.
As a result, 1.1 million metric tons of U.S. DDGS valued at $250.9 million were exported to South Korea over the past six years. During that time, the average DDGS feed inclusion ratio increased significantly from 2.2 percent in 2013 to 5.7 percent in 2019. U.S. DDGS has become one of the top three most-used feed ingredients by Korean customers, along with corn and soybean meal, with 97 percent of feed companies using it.
By value, U.S. exports of DDGS to Korea increased 57.6 percent from $144.5 million in 2013 to $250.9 million in 2019. By volume, exports increased 183 percent, from 405 thousand metric tons to 1.1 million metric tons.
Over the past six years, the Council has invested $489,100 of MAP funds to support increased U.S. DDGS exports of $106.4 million, creating a return on investment (ROI) of $219 for every $1 of MAP funds invested.
Learn more about the Council's work to increase U.S. DDGS inclusion rates.
About The U.S. Grains Council
The U.S. Grains Council develops export markets for U.S. barley, corn, sorghum and related products including distiller's dried grains with solubles (DDGS) and ethanol. With full-time presence in 28 locations, the Council operates programs in more than 50 countries and the European Union. The Council believes exports are vital to global economic development and to U.S. agriculture's profitability. Detailed information about the Council and its programs is online at www.grains.org.