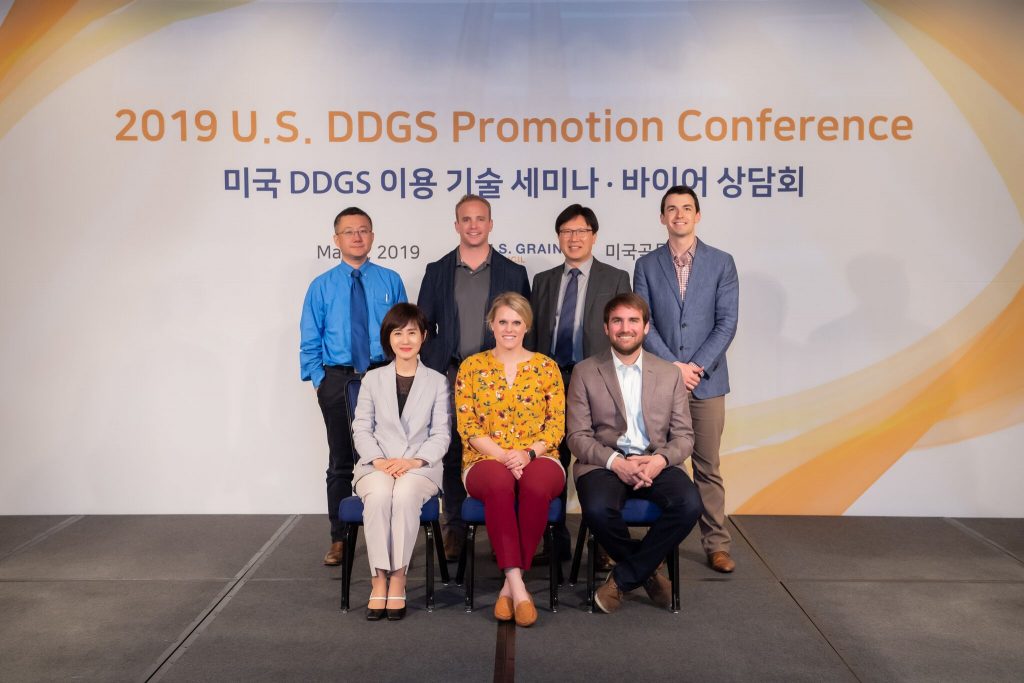 South Korea set a record for imports of U.S. dried distiller's grains with solubles (DDGS) for the fifth consecutive year in 2017/2018, with purchases exceeding one million metric tons for the first time. U.S. DDGS represented 98 percent of total market share, but there is even more demand to capture – and the U.S. Grains Council (USGC) is helping U.S. DDGS suppliers do just that through two conferences conducted earlier in May.
The Council organized the events to provide updated technical information to formulators, research and development staff and feed industry buyers. Conference speakers and participating USGC members included a U.S. swine nutrition expert, U.S. poultry nutrition expert and three U.S. DDGS suppliers.
"This program does a very good job promoting the use of DDGS and educating the research and development teams on how to better utilize DDGS in their formulas and increase inclusion rates," said Haksoo Kim, USGC director in South Korea. "Since 2017, growth in the South Korean market has increased dramatically, largely driven by assistance from the Council."
In Seoul, 65 formulators and research and development personnel, in addition to 20 buyers from major compound feed millers, learned the latest about using U.S. DDGS in swine and poultry diets. In Busan, 15 end-users and 10 buyers in the Youngnam area participated. The U.S. consultants and members also visited the DDGS discharging port and storage in Busan.
The conferences included opportunities for participating U.S. suppliers to conduct 15 direct business and marketing meetings with South Korean DDGS buyers and traders.
"The buyers are very friendly, open-minded and willing to establish business relationships with U.S. suppliers," said Jerry Wang, Living Water Commodities, a division of Hawkeye Gold, LLC, who participated in the conference and business meetings.
The Council has promoted the use of U.S. DDGS in livestock and poultry rations in South Korea since 2004. As a new feed ingredient, misunderstandings abounded about the nutritional and economic values of DDGS, leading to inclusion rates lower than recommended industry levels. A lack of confidence using the co-product also constituted major obstacles to adoption. While almost all South Korean feed millers now use DDGS in their rations, addressing these issues continues to be important to maintaining market share and increasing overall DDGS use.
The Council's DDGS programming in Korea includes technology seminars and on-site consultations to promote increased inclusion rates. Additionally, the Council connects U.S. suppliers with DDGS buyers during events like Export Exchange 2018 and an annual U.S. DDGS promotion conference to initiate a dialogue on quality and establish a stable supply channel.
As a result, South Korea ranks as the fourth largest U.S. DDGS market in the 2018/2019 marketing year, purchasing nearly 642,000 tons thus far (September 2018-March 2019), up slightly year-over year. By educating buyers and end-users of the advantages of U.S. production, intensifying marketing activities to increase inclusion rates and expanding trade opportunities between U.S. suppliers and South Korean buyers, the Council aims to continue the rapid rise of U.S. DDGS use in South Korea to a potential 1.2 million tons by 2022.
Learn more about the Council's work to promote U.S. DDGS in South Korea. 
About The U.S. Grains Council
The U.S. Grains Council develops export markets for U.S. barley, corn, sorghum and related products including distiller's dried grains with solubles (DDGS) and ethanol. With full-time presence in 28 locations, the Council operates programs in more than 50 countries and the European Union. The Council believes exports are vital to global economic development and to U.S. agriculture's profitability. Detailed information about the Council and its programs is online at www.grains.org.