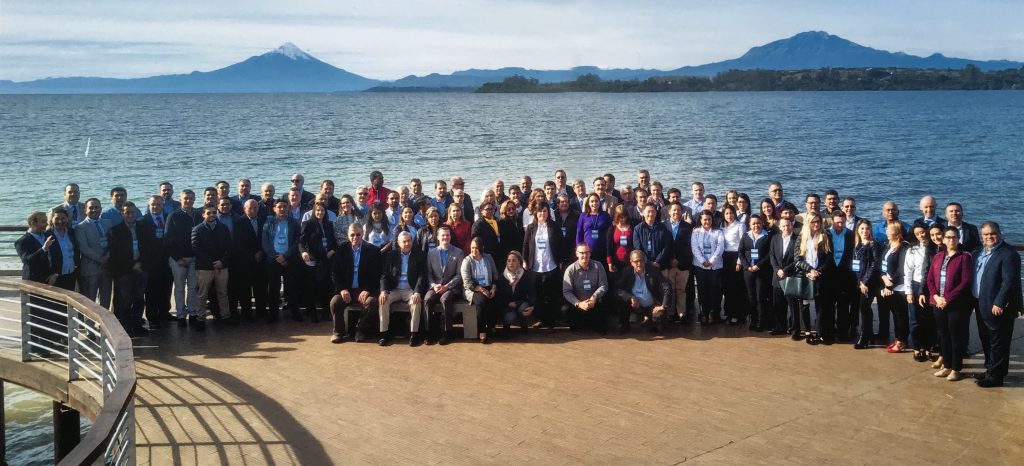 Sixty procurement and managerial staff members from the feed, poultry and livestock industries in 14 Latin American countries recently attended the Americas Agricultural Cooperators Conference in Chile, a regional buyers conference conducted jointly by the U.S. Grains Council (USGC) and the US Soybean Export Council (USSEC). The program provided attendees an opportunity to hear from international experts, gain additional insights into U.S. agribusinesses and increase technical knowledge among buyers.
The Latin American region – including the Caribbean, Central and South America and Mexico – accounts for some of the most important U.S. grain export markets. U.S. coarse grains and related products have a natural market advantage in the region, given its geographic proximity, and 11 separate free trade agreements with the United States, including the North American Free Trade Agreement (NAFTA). Council programs since the early 1980s have helped accelerate the growth of meat, milk and egg production and have built partnerships with industry and livestock associations in the region.
During the two-day conference in Puerto Varas, some of the most important buyers in the region learned about the supply of U.S. grains, oilseeds and co-products; global trends in agricultural markets; world trade policy; weather outlooks and relevant nutrition issues. The joint conference follows a similar event first organized in 2017.
"The Council partnered with USSEC for the second time to optimize resources and arrange a joint conference similar to joint conferences the two organizations conduct in Southeast Asia," said Marri Tejada, USGC regional director for the Western Hemisphere. "Attendees represented the most relevant players, who have direct responsibility over purchasing of feed grains and co-products for the feed, poultry and livestock companies in the region."
These U.S. customers were able to interact with colleagues from other countries and participate in business-to-business meetings with U.S. exporters. Attendees also engaged with staff from both organizations, including current USGC Mexico Director and incoming USGC President and Chief Executive Officer Ryan LeGrand.
"Working together allows us to bring together buyers without adding duplicative activities to their calendars," Tejada said. "This year's meeting also allowed Ryan, as our incoming CEO, to meet top customers, highlight the importance of the region to U.S. agriculture and express appreciation for strong trade relationships."
The Council continues to focus efforts in Latin America on demand and capacity-building activities, taking advantage of emerging export opportunities and bolstering market share.
"The growth in the Latin American region has been equally beneficial for sellers and buyers," said Floyd Gaibler, USGC director of trade policy and biotechnology, who attended the conference. "Moving forward, there is joint agreement to continuing improving the level of trust with customers, emphasizing the reliability of the U.S. grain value chain and information-sharing on both short and long-term market impacts."
About The U.S. Grains Council
The U.S. Grains Council develops export markets for U.S. barley, corn, sorghum and related products including distiller's dried grains with solubles (DDGS) and ethanol. With full-time presence in 28 locations, the Council operates programs in more than 50 countries and the European Union. The Council believes exports are vital to global economic development and to U.S. agriculture's profitability. Detailed information about the Council and its programs is online at www.grains.org.