The U.S. Grains Council (USGC) recently recognized four corn industry
leaders for five years of service to the organization – David Bruntz of the Nebraska Corn Board, Dan Cole of the Illinois Corn Marketing Board, Curt Mether of the Iowa Corn Growers Association and Dirk Rice of the Illinois Corn Marketing Board.
The four corn members have each contributed their own producer perspectives to the Council's programs and planning, including by serving on various advisory teams (A-teams). Cole previously served on the Ethanol A-team and has participated in overseas missions to South Korea, Japan and Mexico. Mether serves on the Middle East/Africa A-team. Rice previously served on the Trade Policy A-team and now serves on the Asia A-team.
"Listening to the efforts of the people we have representing the Council internationally has taught me how markets are really developed and how many years, hours and meetings go into just opening a new market," Rice said.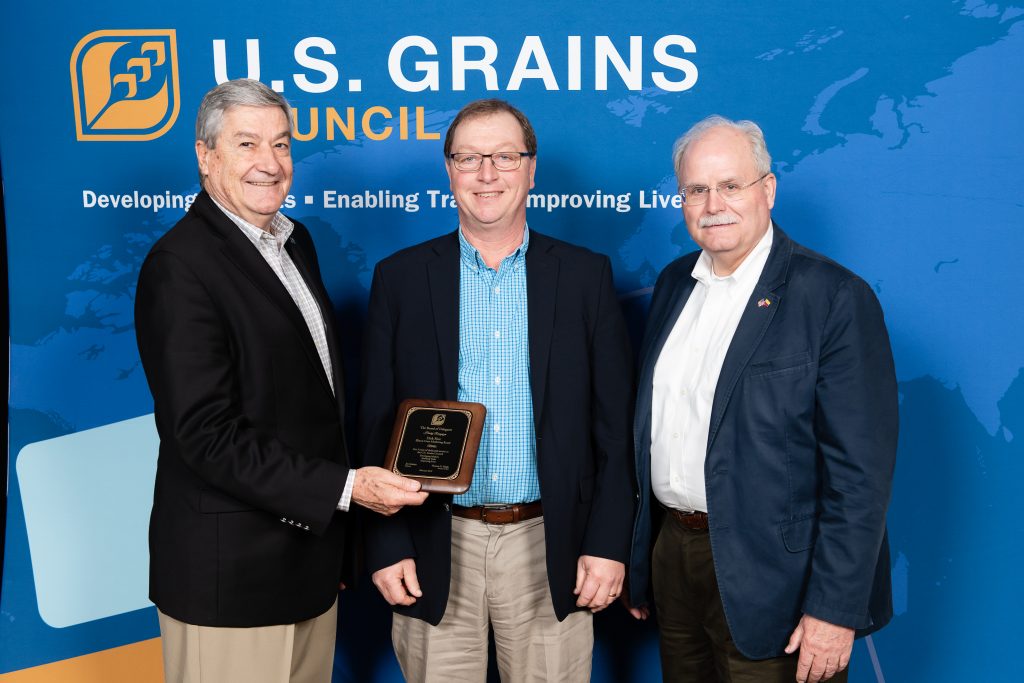 Farmer members also contribute to the Council's market development work by sharing their farming operation history, practices and innovations with international customers – both in overseas settings and by opening the doors of their own farms to visiting trade teams.
Bruntz recalled the Nebraska Corn Board's work to showcase the reliability and quality of the U.S. grain value chain to major corn buyers from Mexico and Saudi Arabia in October 2018. He said these experiences further highlighted the importance of the Council's mission of developing markets, enabling trade and improving lives.
"As grain producers continue to use new technology and genetics, U.S. corn yields continue to grow," Bruntz said. "Without the Council, U.S. producers cannot remain profitable. The USGC staff are strategically located around the world so they can continue to observe the needs of international buyers."
Cole said he is thankful for the leadership of Tom Sleight, USGC president and chief executive officer, in guiding initiatives to grow the Council's global presence. He looks forward to seeing this expansion continue as Sleight retires this summer and Ryan LeGrand, current USGC director in Mexico, takes on the leadership role.
"Although I hate to see Tom leave, I know his family needs him," Cole said. "I am excited to see where Ryan takes us in years to come."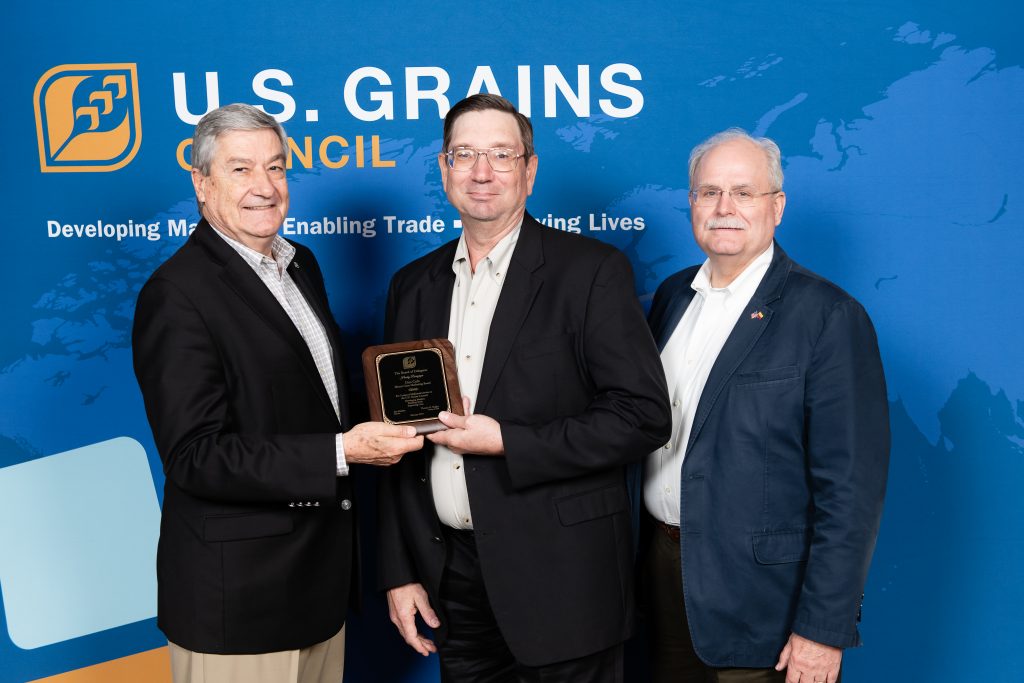 About The U.S. Grains Council
The U.S. Grains Council develops export markets for U.S. barley, corn, sorghum and related products including distiller's dried grains with solubles (DDGS) and ethanol. With full-time presence in 28 locations, the Council operates programs in more than 50 countries and the European Union. The Council believes exports are vital to global economic development and to U.S. agriculture's profitability. Detailed information about the Council and its programs is online at www.grains.org.