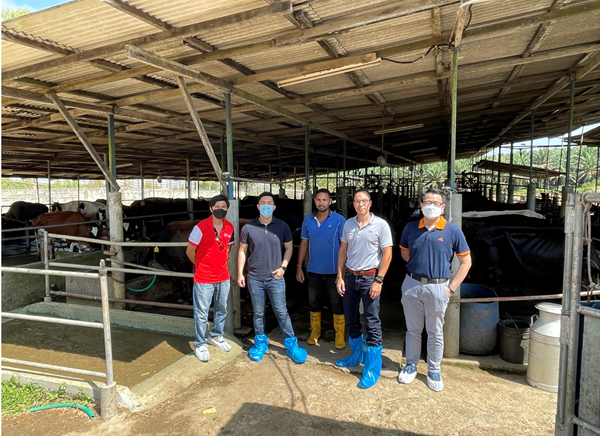 In Southeast Asia (SEA), small-scale dairy farms are struggling to survive due to increased feed prices even though demand for fresh milk and dairy products are on the rise in the region.
To help, the U.S. Grains Council (USGC) is promoting the use of distiller's dried grains with solubles (DDGS), a more cost-effective solution. This method demonstrates to farmers that they can increase performance while decreasing cost. The Council will also provide auxiliary support and technical expertise to maximize the higher quality feed and eventually improve farmers' livelihoods.
"Dairy is one of the fastest growing livestock industries in Southeast Asia and is relatively young compared to other industries," said Chuin Shern Lee, USGC regional marketing specialist for Southeast Asia. "The dairy industry can offer more opportunities for the Council to grow the demand for commodities like DDGS and corn."
The Council's SEA office recently teamed up with a local milk processor and the Department of Veterinary Services Malaysia (DVS) to deliver feed education to farms in the Malaysian state of Johor. Malaysia consumes 69.4 million liters of milk per year.
The Council visited a milk collection center and four small-scale dairy farms in Ulu Tiram, Johor, in late January to gather data and survey farmers there to better understand the challenges they are facing.
The focus will shift to larger-scale commercial dairy farms during February to gain a different perspective. With more perspective, the office hopes to reach its goal of replicating the educational program in larger markets like Indonesia where milk consumption reaches 4.3 billion liters annually.
Historically, powdered milk has dominated the market due to the lack of local availability of quality fresh milk. Producing fresh milk locally has presented challenges for producers as insufficient husbandry knowledge and access to quality feed stunts milk yields.
About The U.S. Grains Council
The U.S. Grains Council develops export markets for U.S. barley, corn, sorghum and related products including distiller's dried grains with solubles (DDGS) and ethanol. With full-time presence in 28 locations, the Council operates programs in more than 50 countries and the European Union. The Council believes exports are vital to global economic development and to U.S. agriculture's profitability. Detailed information about the Council and its programs is online at www.grains.org.