Watch your mailboxes, as the U.S. Grains Council's (USGC's) 2021 Annual Report is set to reach Council members across the country following the 19th International Marketing Conference (IMC) taking place on Feb. 14-16, 2022, in Greenville, S.C.
Over the last year, the Council capitalized on lessons learned during the global pandemic that began in 2020. No longer is the Council unfamiliar with how to conduct meetings via Zoom or Teams, and its annual meetings have been completely virtual and even hybrid during 2021. These stories and more will be featured in the report, available online in addition to the physical mailer.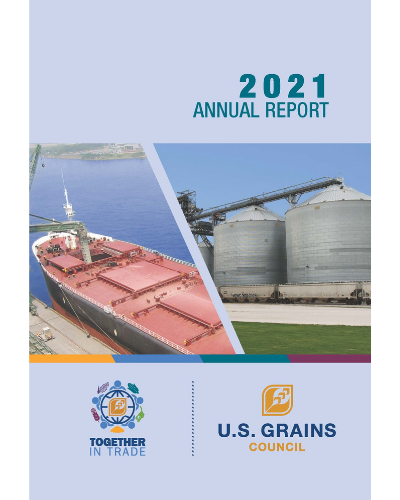 "Staff in every Council office have found ways to connect with buyers of U.S. corn, sorghum, barley, distiller's dried grains with solubles (DDGS) and ethanol in their markets – oftentimes finding that top-level executives who otherwise would not be able to attend an in-person meeting would make themselves available for virtual calls and presentations – ultimately leading to impressive sales," said Ryan LeGrand, USGC president and CEO.
"Because our work during the pandemic has never stopped or even slowed down, we can truly say it has played a significant role, resulting in the best export year of all time for grains in all forms for the marketing year 2020/2021 – up 28.3 percent from 2019/2020 levels."
The 2021 report highlights events that affected all Council staff and members, including the approval of a new office in India, in addition to commodity-specific successes, like record-setting export numbers and the implementation of new educational programs and events to build upon and create relationships around the world.
The report's web page also has a surprise in store, as the Council has worked with its web development team to create a new interactive component on the site.
"We are pleased to bring readers an extensive rundown of the Council's wins from 2021," said Bryan Jernigan, USGC director of communications. "Despite COVID challenges, the Council's progress in markets around the world continued to expand in 2021 and our reach on behalf of U.S. agriculture offers an impressive story of how we have succeeded in the face of adversity."
The mailer, which includes the Council's financial report for the 2020/2021 fiscal year, and the complete set of highlights from the year will be found on grains.org in the coming weeks
About The U.S. Grains Council
The U.S. Grains Council develops export markets for U.S. barley, corn, sorghum and related products including distiller's dried grains with solubles (DDGS) and ethanol. With full-time presence in 28 locations, the Council operates programs in more than 50 countries and the European Union. The Council believes exports are vital to global economic development and to U.S. agriculture's profitability. Detailed information about the Council and its programs is online at www.grains.org.