Chicago Board of Trade Market News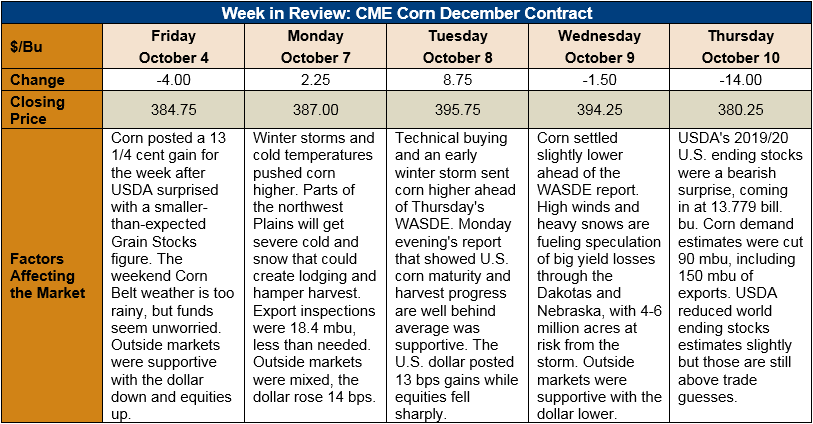 Outlook: December corn futures are 4 ½ cents (1.2 percent) lower this week after the market moved higher early in the week on the back of technical buying and the yield implications of an early winter snowstorm. On Thursday, USDA surprised the market with a larger-than-expected 2019/20 U.S. ending stocks figure that sent futures lower. Cash prices have been relatively immune from the futures whipsaw, however, with basis gradually firming over the week.
The October WASDE saw USDA increase the 2019 corn yield by 0.2 bushels per acre (BPA) and lower harvested acres by 200,000. The net effect was a modest (0.508 MMT or 20 million bushel) reduction in 2019 production. However, USDA also reduced 2019/20 consumption expectations by 2.286 MMT (90 million bushels) with lower exports and ethanol corn use despite a 3.175 MMT (125 million bushel) increase in feed and residual use. USDA reduced its 2019/20 ending stocks to 48.99 MMT (1.929 billion bushels), but that figure was well above the market's pre-report guess and the USDA's estimate was a bearish surprise. The lower carryout figure did prompt the agency to increase its average farm price by $0.20/bushel.
Outside the U.S., USDA lowered world 2019/20 corn production by 0.9 MMT despite a 0.5 MMT increase in Russian production (which now stands at 13.5 MMT). USDA's adjustment of 2019/20 beginning stocks (down 5.5 MMT) helped curtail 2019/20 ending stocks expectations by 3.7 MMT. USDA also increased its forecast for Russian 2019/20 exports as well as Brazil 2018/19 exports due to the strong pace of shipments for the latter country.
USDA's latest Export Sales report recorded 284,500 MT of net sales for corn and 474,400 MT of exports. The export figure was up 4 percent from the prior week. While still very early in the marketing year, YTD bookings (exports plus unshipped sales) are down 52 percent. Other Export Sales highlights include 800 MT of sorghum exports and 1,200 MT of barley exports. YTD bookings for sorghum and barley are down 5 percent and up 3 percent, respectively.
Cash prices are higher this week with the average price across the U.S. reaching $147.82/MT. Barge CIF NOLA values are 1 percent higher while FOB NOLA prices are firmer at $172.50/MT for October shipment. Basis is firming across the Midwest with grain originators increasing bids to help accelerate what are currently slow farmer sales.
From a technical standpoint, December corn formed a weak reversal pattern on the daily charts broke technical support from a short-run uptrend. Major technical support exists near $3.70-3.75 and with light farm sales, it is unlikely futures will move below this support range. Cash prices and spreads are firmer, which suggests fundamentals may be tightening. USDA's report weighed on prices but there are still lingering weather concerns that could yet lower harvested area and yield figures.