Chicago Board of Trade Market News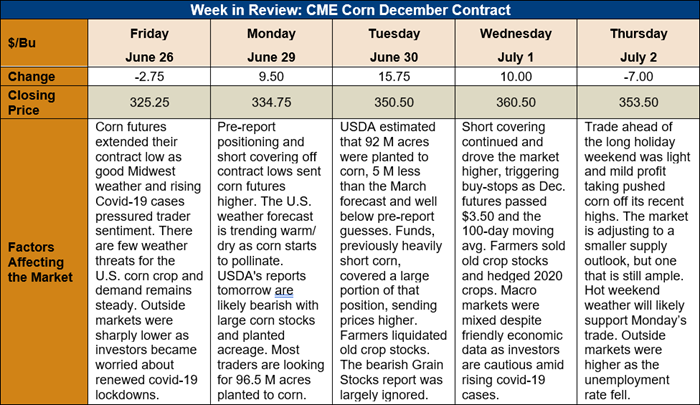 Outlook: December corn futures are 28 ¼ cents (8.5 percent) higher this week after the USDA surprised the market with a smaller than expected corn acreage estimate. The acreage report estimated farmers planted 37.232 million hectares (92 million acres) to corn, down sharply from the agency's prior forecast of 39.225 million hectares (97 million acres). Traders focused almost exclusively on the smaller acreage figure and the neutral/bearish Grain Stocks report, issued the same day, had little impact on the market.
The 5-million-acre reduction between USDA's March and June planted area forecasts was due largely decreases in the northern Plains and parts of the Corn Belt. Notably, North Dakota farmers lowered their corn plantings by some 323,000 hectares (800,000 acres) while Nebraska and South Dakota cut well over 202,000 hectares (500,000 acres) from their planting intentions. Perhaps most interestingly, key corn producing states including Illinois and Indiana saw significant acreage changes, with those two states in particular cutting 161,000 hectares (400,000 acres) from corn plantings. The USDA's report showed only a few, historically minor corn-producing states increasing acreage from the March report, including Utah, Oklahoma, Kentucky, and Wisconsin.
Other key statistics from the June acreage report include a modest reduction in sorghum area (now estimated at 2.26 million hectares or 5.6 million acres), with Texas and Kansas cutting plantings by 40,400 hectares (100,000 acres) and 20,000 hectares (50,000 acres), respectively. USDA increased 2020 U.S. oat planted area by 52,000 hectares (130,000 acres) and made a modest increase to barley planted area. In total, USDA estimates that 41.9 million hectares (103.6 million acres) were planted to feed grains in 2020, up 3 percent from 2019.
The U.S. corn crop is approaching the yield-critical time of mid-July pollination in overall excellent shape. Seventy-three percent of the crop is rated in good/excellent condition, up slightly from the prior week and USDA notes that 4 percent of the crop is silking. That figure is slightly behind average but the coming week's forecast for warm/dry weather should help accelerate crop development. The long-term forecast is still devoid of threatening heat/dryness, meaning pollination and kernel fill should occur during favorable weather.
The weekly Export Sales report featured net corn sales of 361,000 MT and exports of 1.439 MMT. Exports were up 10 percent from the prior week and in-line with market expectations. Recent shipments put YTD exports at 33.8 MMT (down 21 percent) while YTD bookings (exports plus unshipped sales) stand at 42.3 MMT (down 13 percent). The report also featured 131,000 MT of sorghum exports. YTD sorghum exports are up 153 percent as international demand has remained exceptionally strong.
From a technical standpoint, December corn futures have put in near-term lows (last week's contract lows) and have handily overcome technical resistance. Following Tuesday's acreage report release, the market quickly jumped above resistance at $3.48-3.50 and triggered buy-stops on Wednesday as it moved above the 100-day MA. December futures have struggled to move above $3.65, however, and mild profit taking pushed the market lower on Thursday.
Looking forward, former resistance at the 100-day MA is now turning into major support (notably, that stopped Thursday's selling). A weekend forecast for hot/dry weather for most of the corn-growing regions of the U.S. will likely put funds in a short covering mood again on Monday. The next upside target is psychological resistance/the 200-day MA at $3.75/3.76. Unless extended weather forecasts retain a hot/dry trend through July, it is doubtful that the market will be able to move substantially higher than $3.75. Consequently, the outlook is for wide-ranging but sideways trade between $3.50 and $3.75.