Chicago Board of Trade Market News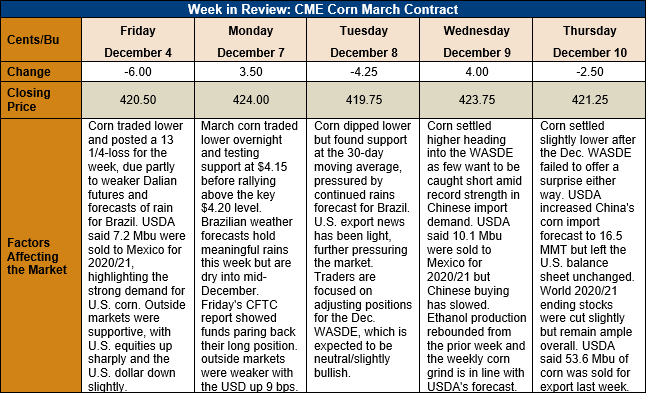 Outlook: March corn futures are ¾ cents (0.2 percent) higher this week as the market chopped sideways ahead of the December WASDE and, with little of note in Thursday's report, declined modestly following its release. The markets are heading into a typically slow time of year, which is prompting fund managers to book profits and exit positions. The markets are now strictly focused on export prospects and crop development in South America.
The December WASDE was largely a non-event for global corn markets, with USDA declining to make any changes to the U.S. 2020/21 balance sheet. Globally, USDA lowered Argentina's corn production 1 MMT based on a 100,000-hectare reduction in harvested area. The agency lowered Canadian production by 0.43 MMT as lower yields offset an increase in area harvested and decreased the EU crop due to smaller production in Bulgaria. Somewhat surprisingly, Ukraine's corn production was increased by 1 MMT to 29.5. In total, world corn production fell by slightly more than 1 MMT as cuts to Canadian, European, and Argentine crops outweighed the larger Ukrainian crop.
On the demand side, USDA increased its forecast of China's 2020/21 corn imports by 3.5 MMT to a new record high of 16.5. The agency also increased China's 2020/21 barley and sorghum import forecasts, putting total Chinese coarse grain imports at 30.9 MMT, which would be a record high if realized. Chinese coarse grain imports of that magnitude would account for 14 percent of global coarse grain trade.
The larger Ukrainian and smaller European corn crops prompted USDA to increase the former country's 2020/21 exports to 24.0 MMT while cutting the latter by 3 MMT to 22.0. USDA cut total world corn ending stocks for the 2020/21 marketing year by 2.47 MMT to 288.96, leaving a 21.6 percent ending stocks-to-use ratio.
The weekly Export Sales report showed 1.362 MMT of net export corn sales, down 1 percent from the prior week. Weekly exports fell 33 percent, however, totaling 0.715 MMT.  YTD exports are up 61 percent at 11.087 MMT while YTD bookings (exports plus unshipped sales) are up 156 percent at 39.66 MMT.
U.S. cash markets are steady this week with exporters seeing no reason to discount prices with U.S. FOB NOLA corn being the cheapest global origin. Barge CIF NOLA offers are up 1 percent this week at $193.50/MT while FOB NOLA offers are steady at 220.50/MT. The average basis for U.S. corn is 17 cents under March futures (-17H), up from -18H last week.
From a technical standpoint, March corn futures are chopping sideways after uncovering major support at $4.14 as end-users aggressively booked spot and Q1 needs. Rallies continue to be sold with funds looking to pare back or exit long positions ahead of the holidays and more favorable weather forecasts for South America. March corn looks poised to trade a tight range from $4.14-4.27 heading into the New Year.