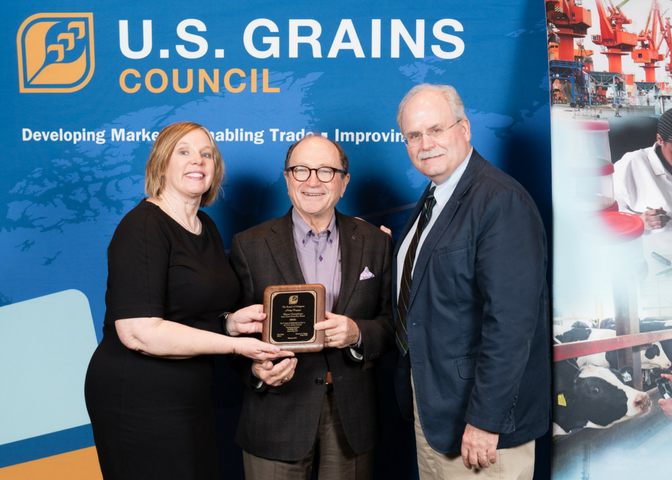 Corn farmer Wayne Humphreys has gained critical insight into how trade works as a delegate to the U.S. Grains Council (USGC) and vice president of the Iowa Corn Promotion Board. And he has shared the knowledge gained about how trade affects the market for his family's corn crop in Columbus Junction, Iowa, with customers and end-users around the world.
Humphreys served on the Council's Trade Policy Advisory Team (A-Team) in 2012 and switched to the Western Hemisphere A-Team in 2016. The information learned during his time with both of these advisory groups has been especially helpful to him as issues like the renegotiation of North American Free Trade Agreement (NAFTA) have unfolded, causing tension with top trading partners Mexico and Canada.
"Exposure to the patience and high-level negotiations that go into trade agreements is something our entire industry should understand," Humphreys said. "I am convinced the relationships the Council has created with our trading partners are helping hold our trade together while politicians do their work."
Humphreys also has taken these insights and his farming experience to an overseas audience, participating in the Council's corn quality report rollouts in Mexico, addressing the China Swine Summit and speaking during the Southeast Asia Grain Conference.
"Working with the Council, the U.S. Meat Export Federation (MEF) and our Iowa Economic Development Department, I have been in 10 countries these past five years," Humphreys said. "In doing so, I have told the story of good people producing good food, developing markets, enabling trade and improving lives."
The Council recognized Humphreys for five years of service during its 15th International Marketing Conference and 58th Annual Membership Meeting, held in February in Houston, Texas.
"It has been a very fulfilling five years on the Iowa Corn Promotion Board and the Council," Humphreys said. "Hopefully my contribution at least matches what I have gained from the experience."
About the U.S. Grains Council
The U.S. Grains Council develops export markets for U.S. barley, corn, sorghum and related products including distiller's dried grains with solubles (DDGS) and ethanol. With full-time presence in 13 key markets and representatives in an additional 15 locations, the Council operates programs in more than 50 countries and the European Union. The Council believes exports are vital to global economic development and to U.S. agriculture's profitability. Detailed information about the Council and its programs is online at www.grains.org.