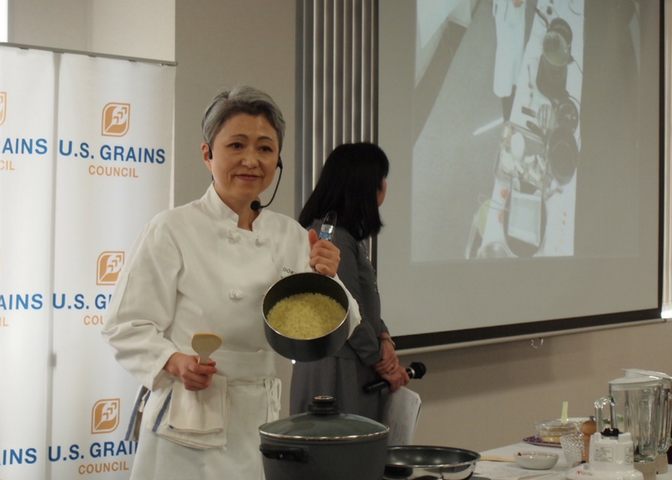 As Tokyo gears up to host the 2020 Summer Olympic Games, the U.S. Grains Council (USGC) is laying the groundwork to help Japanese restaurants and snack and food companies feed hungry international tourists by promoting U.S. white food sorghum.
"The 2020 Olympics is an excellent opportunity to highlight the use of U.S. food sorghum during a high-profile international event," said Michiyo Hoshizawa, USGC program and administrative manager in Japan, who manages the food sorghum promotional effort. "While the market for gluten-free foods in Japan is not as large as the United States, the Olympics will attract more international visitors and increase the demand for gluten-free foods."
The Council, in conjunction with the United Sorghum Checkoff Program (USCP), has promoted white food sorghum and white sorghum flour in the Japanese market for the past few years, including displaying and sampling products at food shows and showcasing events.
In March 2018, the Council organized a food sorghum demonstration and tasting event in Sapporo, Japan, with assistance from the Consulate General Sapporo, the U.S. Department of Agriculture's (USDA's) Agricultural Trade Office in Tokyo. Around 60 chefs, food distributors and manufacturers watched as a chef and cooking instructor, both from New York, demonstrated how to cook with sorghum at a test kitchen of a local food wholesaler.
"Most participants did not know much about sorghum before the event, but now want to use it in the future," Hoshizawa said.
As a result of these educational programs, the Japanese snack and food industry has increased interest in and commercialization of sorghum for their products. The Japanese market now includes more than 50 food products in Japan with sorghum as an ingredient.
The Council has also approached hotels and restaurants to introduce their chefs and guests to white sorghum. Based on these programs, three hotels added sorghum to their menus in 2017 in addition to the four hotels that had incorporated white sorghum into their restaurant menus the prior year.
In all, food sorghum in Japan represents a small, niche market. The Council estimates 800 metric tons (nearly 31,500 bushels) of food sorghum was sold to Japan from the United States in 2017. However, this specialized, health-conscious market provides another value-added opportunity for U.S. sorghum farmers.
"The Council will continue to promote food sorghum as a healthy and environmentally-friendly grain, while at the same time maintaining a close relationship with feed sorghum customers," Hoshizawa said.
To further supplement promotional efforts, the Council is collaborating on research with the Obihiro University of Veterinary Medicine to identify the effects of food sorghum on intestinal microbial flora. Identifying health attributes with Japanese researchers will further encourage Japanese chefs and food companies to use the grain as an ingredient for a market focused on health consciousness – just in time for tourists to arrive for the Summer Olympic Games.
About the U.S. Grains Council
The U.S. Grains Council develops export markets for U.S. barley, corn, sorghum and related products including distiller's dried grains with solubles (DDGS) and ethanol. With full-time presence in 13 key markets and representatives in an additional 15 locations, the Council operates programs in more than 50 countries and the European Union. The Council believes exports are vital to global economic development and to U.S. agriculture's profitability. Detailed information about the Council and its programs is online at www.grains.org.