The U.S. Grains Council (USGC) recognized Nathan Larson of Kansas and Randy Woodruff of Wisconsin for five years of service as delegates to the organization at its 20th International Marketing Conference and 63rd Annual Membership Meeting last month.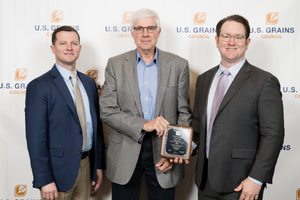 Larson raises cattle and grows corn, sorghum, soybeans and wheat on his farm in Riley, Kansas. He began farming while in high school and is a member of the Kansas Grain Sorghum Commission (KGSC).
His introduction to the Council came through his involvement with the United Sorghum Checkoff Program (USCP) and he has since been on Council trade missions to China and Mexico.
He has also been a member of the Asia and Western Hemisphere Advisory Teams (A-teams) during his tenure with the organization.
Larson said he uses his position in the KGSC to help other farmers and producers understand the importance of exports and how they can greatly increase profits.
"I tell these guys, we need to put money and effort into developing multiple overseas markets for our sorghum," Larson said. "I really believe in the Council's mission and the work that it does."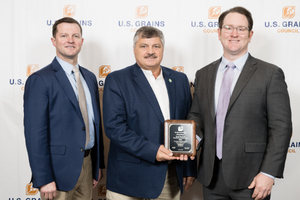 Randy Woodruff is a corn, soybean and alfalfa farmer who joined the Council as a delegate from the Wisconsin Corn Promotion Board (WCPB) in 2017 and has served on the Middle East and Africa A-Team ever since. Woodruff was also the president of the WCPB in 2019.
Accompanying trade teams to Taiwan and Tunisia significantly enhanced Woodruff's understanding of the Council's programming and made him even more engaged in his A-team meetings.
"That trip to Tunisia really made my A-team involvement take off, and meeting international Council staff is always a pleasure," Woodruff said. "People say how I put so much time and effort into doing this, but I always say I'm getting a lot more out of it!"
Woodruff added that he establishes trust and understanding with overseas buyers by talking about how his farm is family-run and that operations will be handed down to future generations of Woodruffs.
Outside his work with the Council and the WCPB, Woodruff enjoys traveling with his wife, Julie, and spending time with his grandson. Woodruff's parents are in their 90s and regularly come to the farm whenever they have the chance.
Please join us in congratulating Nathan Larson and Randy Woodruff on their achievements!
About The U.S. Grains Council
The U.S. Grains Council develops export markets for U.S. barley, corn, sorghum and related products including distiller's dried grains with solubles (DDGS) and ethanol. With full-time presence in 28 locations, the Council operates programs in more than 50 countries and the European Union. The Council believes exports are vital to global economic development and to U.S. agriculture's profitability. Detailed information about the Council and its programs is online at www.grains.org.