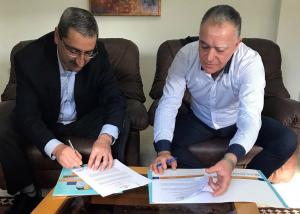 In dual efforts to expand export opportunities and help local feed producers improve the quality of their products, the U.S. Grains Council (USGC) plans to utilize a grant provided by the U.S. State Department to create a Center for Feed Manufacturing in Tunisia.
"Centered in North Africa, U.S. suppliers face increasing competition in the Tunisian market from competitors in Europe, the Black Sea and South America," said Ramy Hadj Taieb, USGC regional director for the Middle East and North Africa.
"As a result, the Council's work in Tunisia is becoming more strategic, focusing on how to utilize training programs to help develop both the Tunisian market and other markets in the region, while emphasizing the advantages of U.S. coarse grains and co-products."
As part of establishing the Center, the Council, the Tunis National Institute for Agribusiness (INAT) and Iowa State University will train a core team of 10 industry professionals in feed manufacturing. The training program will target nutritionists, feed millers and poultry, dairy, beef and aquaculture producers in both intensive and extensive training programs as well as activities meant to foster development and professionalism within the industry.The core team of trainers will then return to the Center for Feed Manufacturing to subsequently train approximately 70 members of the next generation feed industry leaders in Tunisia.
The Council ultimately intends to expand the Tunisian center to be a regional training effort for the Middle East and Africa, as feed demand continues to increase considerably in these areas. Regional use of the center is expected to boost compound feed production, which will stimulate demand for U.S. corn, barley, sorghum and co-products.
Learn more about the Council's work in the Middle East and North Africa here.
About The U.S. Grains Council
The U.S. Grains Council develops export markets for U.S. barley, corn, sorghum and related products including distiller's dried grains with solubles (DDGS) and ethanol. With full-time presence in 28 locations, the Council operates programs in more than 50 countries and the European Union. The Council believes exports are vital to global economic development and to U.S. agriculture's profitability. Detailed information about the Council and its programs is online at www.grains.org.