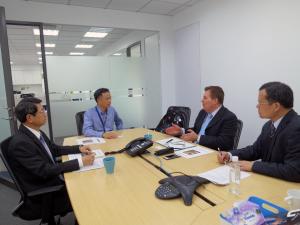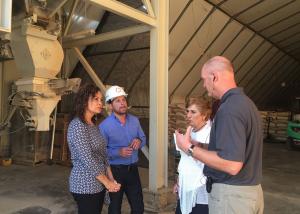 The U.S. Grains Council is rolling out information on the quality of the 2017 corn crop to buyers and end-users around the world, aided in many cases by U.S. farmers who are sharing their own experiences growing new crop corn.
The annual series of events presents the results of the 2017/2018 Corn Harvest Quality Report, released this December. The presentations, meetings and conferences started as the new report became public and will continue through early 2018 to arm global customers with clear expectations regarding corn quality for this marketing year.
Farmers from Indiana, Iowa, Minnesota, Missouri, Nebraska, Ohio and Wisconsin are joining the Council overseas to provide their perspectives on the 2017 U.S. corn crop during events in Colombia, Mexico, Taiwan, Peru, Japan, South Korea and Tunisia. Attention to and participation in these events is growing, with new events being added in places like Mexico, where the rollouts occurred during two separate missions due to an increased level of interest in the quality information.
"The focus of the events may be the data, but the voices of those who produce the crop provide an important perspective on the data that customers are eager to hear," said Deb Keller, USGC chairman and farmer from central Iowa. "By providing transparent information on new crop corn quality, the Council and these farmer participants help maintain a trusted relationship with our customers."
The crop quality data and farmer presentations are accompanied by information on U.S. corn grading and handling. This information helps provide a better understanding of how U.S. corn is moved and handled through export channels for a varied audience of international grain buyers, end-users and even government officials.
"These efforts to aggregate and share information on the corn crop each year could not be accomplished without the support of the Council's membership," Keller said. "We do what we can because of the support of U.S. farmers and agribusinesses."
Recently-completed corn quality events in Colombia covered six cities and included participants representing major commercial feed producers, the country's largest broiler producer, the largest layer producers and traders, government representatives, port authorities and private customs agencies. Crop quality presentations were also recently completed in Mexico, supported by farmer participants from Iowa and Indiana. Ongoing this week are events in Taiwan and Peru with farmer representation from Missouri, Ohio and Illinois, followed by events in Japan, South Korea and Tunisia featuring farmer participants from Iowa, Nebraska, Minnesota and Wisconsin.
The 2017/2018 Corn Harvest Quality Report is the seventh in the Council's annual corn quality survey. The report revealed that the majority of 2017 corn crop conditions were rated as good or excellent during the growing season, leading to strong plant health, good kernel size and a projected record yield of 370.3 million metric tons (14.58 billion bushels), the second-largest crop on record.
The corn harvest quality report provides timely information about the quality of the current U.S. corn crop at harvest as it enters international merchandising channels. This information will be supplemented by a second report, the 2017/2018 Corn Export Cargo Quality Report, scheduled for early 2018, which will measure corn quality at export terminals at the point of loading for international shipment.
As a package, the reports provide reliable, timely and transparent information on the quality of U.S. corn as it moves through the export channel. It is important to recognize the final quality of corn in export channels is affected by many factors in the U.S. grain marketing system. As corn passes through the U.S. marketing system, it is mingled with corn from other locations; aggregated into trucks, barges and rail cars; and stored, loaded and unloaded several times.
"Presenting both the harvest quality report and the export quality report is very important, as they give export customers an understanding of the relationship between growing conditions, early harvest quality and export quality of U.S corn," Keller said. "Our goal with these reports is to build confidence of our export customers in the availability and quality of U.S. corn, and to reaffirm the commitment of U.S. corn producers to their export customers."
Learn more about the 2017/2018 Corn Harvest Quality Report here.
About The U.S. Grains Council
The U.S. Grains Council develops export markets for U.S. barley, corn, sorghum and related products including distiller's dried grains with solubles (DDGS) and ethanol. With full-time presence in 28 locations, the Council operates programs in more than 50 countries and the European Union. The Council believes exports are vital to global economic development and to U.S. agriculture's profitability. Detailed information about the Council and its programs is online at www.grains.org.