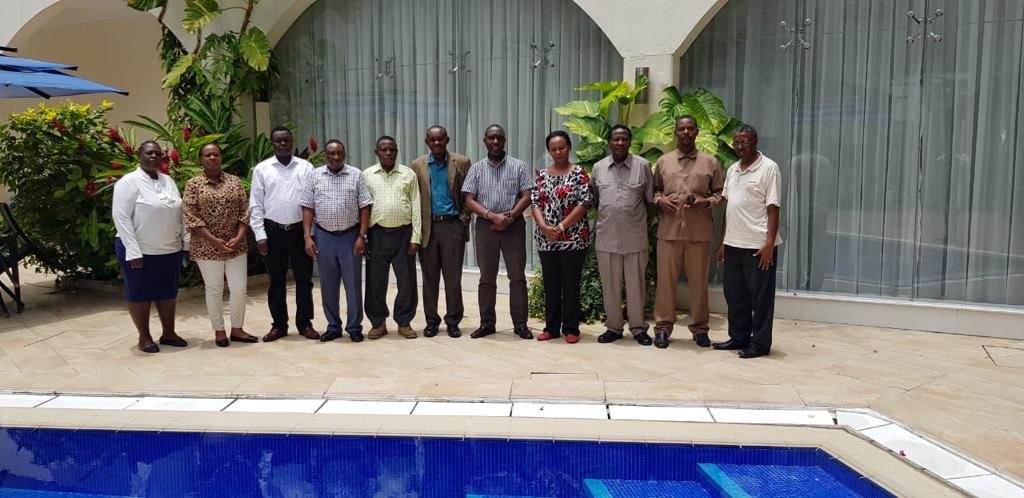 The U.S. Grains Council (USGC) brought together the Poultry Association of Tanzania (PAT) with the Association of Kenyan Feed Manufacturers (AKEFEMA) Executive Committee for the first time in October for a knowledge exchange program in Dar es Salaam, Tanzania.
During a roundtable discussion, the two associations discussed the market dynamics driving the feed industries in their region as well as each organization's goals, priorities and management.
"The Council played an integral role in forming the Poultry Association of Tanzania, and now the organization can benefit from learning from AKEFEMA, which represents more than half of the commercial feed mills in Kenya," said Katy Wyatt, USGC manager of global strategies. "AKEFEMA is also looking to work more collectively with the livestock and poultry industries in Kenya, so collaborating with PAT can help ensure all voices within the value chain are represented and working collectively to address the production constraints affecting the productivity of both sectors."
The knowledge exchange will assist these associations in unifying their efforts to address policy, regulatory and sector development issues and constraints. Doing so benefits the industries in their own respective countries as well as the region as a whole.
"Connecting AKEFEMA and PAT allows them to communicate lessons learned from both successes and tribulations and exchange best practices in developing their respective markets," Wyatt said. "Linking these national associations allows them to work together to grow and develop the regional feed industry."
East Africa's feed industry faces several challenges including feed ingredient supply chain deficits and procurement challenges, lack of control of feed quality and insufficient education and training of feed millers. In any given year, the region has more than a two million metric ton deficit of domestically-produced corn, which serves as a staple food for the growing human population as well as a key ingredient in animal feed. Due to a drought in 2018, the region is expected to import an additional one million tons of corn this year.
Despite these challenges, the regional feed industry is expected to grow rapidly in the coming decades as population booms. To address both the current shortfall and meet future demand, the feed industries in both Kenya and Tanzania are looking for other sources of corn and alternative feed ingredients.
As a result, the Council is working to expand trade servicing activities in East Africa. In September, the Council conducted its first commercial program in Kenya and Tanzania, promoting U.S. sorghum and dried distiller's grains with solubles (DDGS).
This month's information exchange between AKEFEMA and PAT discussed the opportunities for both of these feed ingredients to enter their respective markets as well as the importance of addressing government policies and standards that hinder industry growth.
The Council has expanded its engagement in East Africa with support from the U.S. Department of Agriculture's Agricultural Trade Promotion (USDA's ATP) program. A key component of this project is working with these regional livestock and feed associations to develop future markets for U.S. coarse grains and co-products.
While in Dar es Salaam, AKEFEMA representatives also attended PAT's annual World Egg Day event, which promotes egg consumption in Tanzania, and its fifth annual Tanzania Poultry Show. The poultry show, sponsored by PAT, the Council and the Tanzania Meat Board, showcases innovative production techniques and equipment. More than 30 exhibitors – both local and international companies – participated this year.
"The Tanzania Poultry Show demonstrated to AKEFEMA how such a large-scale event, hosted by an industry association, can promote growth and professionalism of the poultry and feed sectors," Wyatt said. "The Council will now work with AKEFEMA to develop a work plan for tackling industry limitations and take advantage of the opportunity for AKEFEMA and PAT to join forces to address their shared constraints in East Africa."
About The U.S. Grains Council
The U.S. Grains Council develops export markets for U.S. barley, corn, sorghum and related products including distiller's dried grains with solubles (DDGS) and ethanol. With full-time presence in 28 locations, the Council operates programs in more than 50 countries and the European Union. The Council believes exports are vital to global economic development and to U.S. agriculture's profitability. Detailed information about the Council and its programs is online at www.grains.org.