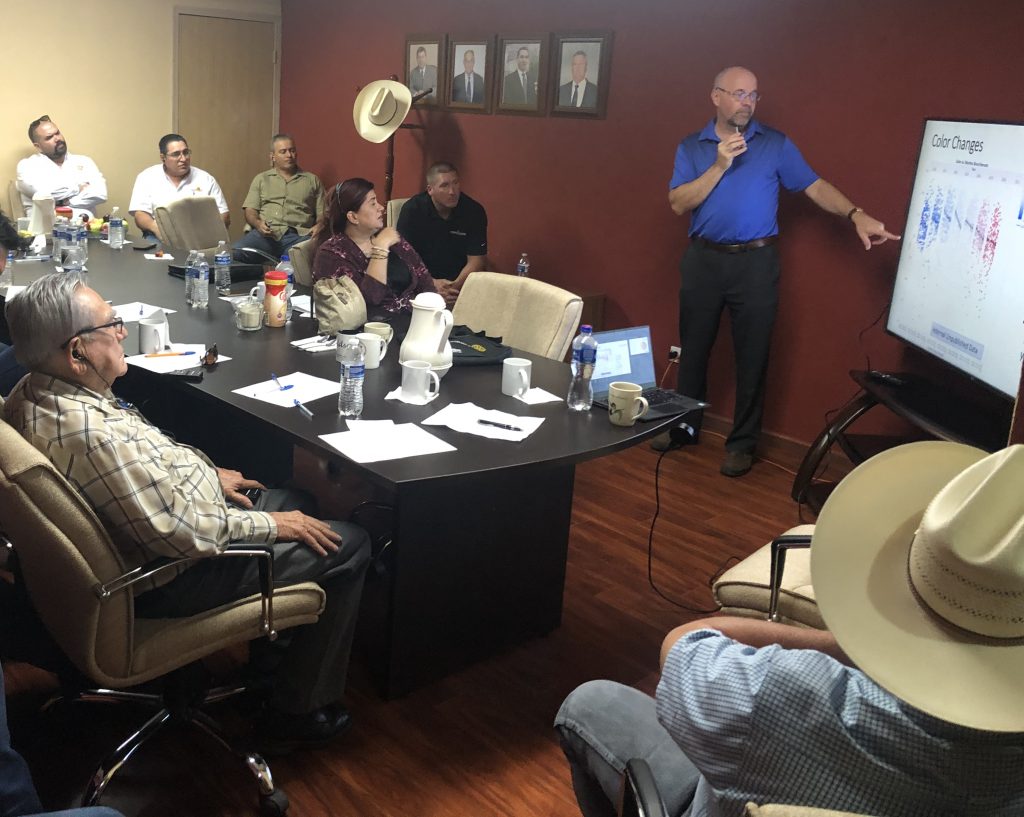 The U.S. Grains Council (USGC) is answering technical questions and sharing firsthand experience using U.S. dried distiller's grains with solubles (DDGS) with poultry, swine and beef producers in Sonora, Mexico. This work to encourage increased DDGS use is augmented by newly installed stingers that will make it easier for these producers to obtain DDGS from the United States.
Located south of the Arizona border, Sonora is a significant livestock production zone. It is the second-largest pork producing state in Mexico, including large-scale programs like breeding, fattening and processing. Overall, the state produces 229,600 metric tons of pork per year with 2 percent growth year-over-year. To do so, the pork producers union makes consolidated grain purchases for its members, using about 50,000 metric tons of feed grains monthly – 40 percent from the United States.
Sonora is also the third-largest egg-producing state in the country, with Sonora's poultry association members using 20,000 metric tons of feed grains monthly to feed their 12 million layers. The region is also home to significant cattle production with 32,000 livestock producers grazing cattle and installed feedlot capacity for fattening 145,000 head per year.
"Sonora has strong demand potential for bulk DDGS," Chavez said. "The economic and nutritional advantages of U.S. DDGS have sparked increased interest from all three of the major livestock production industries in the state."
The combination of these industries and the state's geographic proximity to the United States makes Sonora a prime destination for the Council's market development work.
In the last year, the Council, the Missouri Corn Merchandising Council and the Regional Livestock Pork Producers Union of Sonora (Union) partnered to purchase hard car unloaders – known as "stingers" – for the Ciudad Obregon rail terminal in the state of Sonora, where U.S. DDGS will be stored and used. This new delivery option will also benefit the poultry and cattle industries in the region.
The Council is working to match the interest and new logistical advantages of the stinger installations with information and testimonials on DDGS use. A triad of seminars conducted in September answered questions for producers and promoted the advantages of using DDGS. Dr. Kevin Herrick, nutritionist and technical service director for Poet Nutrition, provided technical expertise, while Iowa farmer and swine producer Bob Hemesath also provided his firsthand perspective on feeding DDGS to his hogs and updated the groups on the current year's corn crop.
The first seminar reinforced the benefits of DDGS to the poultry producers association. Approximately 70 percent of the association's membership already uses DDGS, so this seminar answered more technical questions on usage and encouraged higher inclusion rates. The second seminar targeted swine producers, allowing Hemesath to make an even larger impact by discussing his use of DDGS at a 40 percent inclusion rate and feeding until slaughter.
"Dr. Herrick's presentation was geared toward giving more confidence in using DDGS for swine and backing up Hemesath's personal good experience feeding DDGS to his hogs," Chavez said. "This was exactly the information the audience was waiting to hear."
The third and final presentation was designed for members of the regional cattle feeders association. This seminar included robust discussion of costs, antibiotics use and how to push maximum inclusion levels.
The Council will continue to work with the poultry, swine and cattle livestock associations to answer further questions, especially as the new rail options for DDGS delivery come into active operation.
"It is imperative that these livestock associations have access to nutritional experts to help them in incorporating DDGS into their feed rations and troubleshoot any issues," Chavez said. "The Council will remain active in this region as these three different industries all gain their own experience with the advantages of feeding DDGS to their animals."
Learn more about the Council's work to promote DDGS in Mexico. 
About The U.S. Grains Council
The U.S. Grains Council develops export markets for U.S. barley, corn, sorghum and related products including distiller's dried grains with solubles (DDGS) and ethanol. With full-time presence in 28 locations, the Council operates programs in more than 50 countries and the European Union. The Council believes exports are vital to global economic development and to U.S. agriculture's profitability. Detailed information about the Council and its programs is online at www.grains.org.