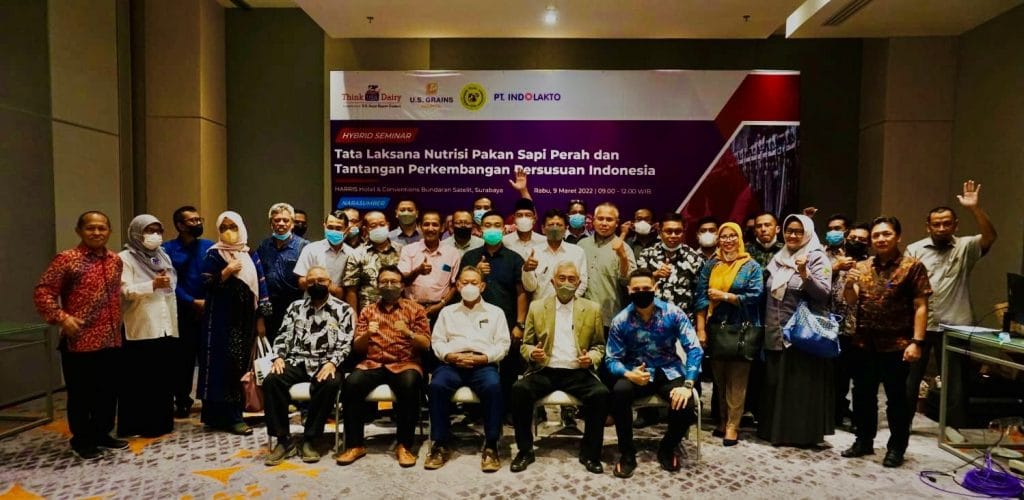 To address some of the challenges faced by the Indonesian dairy industry, the U.S. Grains Council (USGC), U.S. Dairy Export Council (USDEC), the Indonesian Milk Cooperative Association (GKSI) and domestic milk processor PT Indolakto conducted a hybrid seminar, The Management of Dairy Cattle Feed: Nutrition and Challenges for Indonesian Dairy Development, for dairy farmers in East Java.
While Indonesia currently produces over 962 million liters of fresh milk, Indonesia cannot meet its overall daily demand. A GKSI representative in the region expressed that with a goal of increasing the dairy cattle population by 10 percent per year, milk production will also increase by 15 percent. The largest cost component in reaching this goal, however, is feed. That's where the Council hopes to help out, making Indonesian buyers aware of the cost efficient and nutritional benefits of a U.S. distiller's dried grains with solubles (DDGS).
"The nutritional composition of DDGS for use in dairy cows consists of protein, fat, fiber, calories for energy and minerals, especially phosphorus and sulfur which are very easy to digest," said Dr. Walter Chen, USGC dairy program consultant.
Chen explained that modern DDGS contains lower fat and higher protein content, meaning good value for dairy cows. He also added that based on cow's milk productivity, DDGS can give better response if combined with alfalfa grass compared to silage corn feed.
The event attracted 135 participants, 45 of whom were in-person. The Council heard concerns from farmers on topics including the price of animal feed. Speakers spoke about optimal nutrition formulations for dairy cattle and proposed solutions to the challenges farmers face in managing their businesses.
"Milk production is currently at 960 million liters, far away from 4.3 billion liters of demand in Indonesia. Working together with USDEC, local producers and government to engage this industry is a win-win-win opportunity for everyone," said Chuin Shern Lee, USGC regional marketing manager in Southeast Asia.
About The U.S. Grains Council
The U.S. Grains Council develops export markets for U.S. barley, corn, sorghum and related products including distiller's dried grains with solubles (DDGS) and ethanol. With full-time presence in 28 locations, the Council operates programs in more than 50 countries and the European Union. The Council believes exports are vital to global economic development and to U.S. agriculture's profitability. Detailed information about the Council and its programs is online at www.grains.org.