The U.S. Grains Council (USGC) recognized Iowa's Mark Heckman for his 10 years of service as a delegate to the Council at the 19th Annual Marketing Conference and 62nd Annual Membership Meeting in February.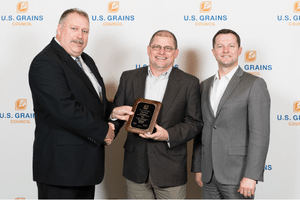 Heckman currently serves on the Trade Policy Advisory Team (A-Team) and previously contributed to the Middle East/Africa/South Asia A-Team. Outside of the Council, Heckman is a member of the Iowa Corn Growers Association and manages a family farm partnership in addition to acting as the ethanol services director for EcoEngineers.
Heckman noted that the most fulfilling aspect of his work with the Council is helping growers and producers from around the world learn about what they can do to improve their own operations.
"It's always inspiring when you see those 'aha' moments," Heckman said. "A group from India came to a feed processer in the U.S. and they didn't know what it looked like or how to relate and formulate with it. My breakthrough moment was answering those questions and being able to provide them with a solution for their needs when they were here."
From a personal standpoint, Heckman said that the Council's work in building global markets for American products has been extremely important for him and other growers to expand their sales.
"Every business has to have a sales force to be successful and a small portion of our revenues go back into market development to open doors and markets, so you need to have those direct connections and relationships," Heckman said. "I think that's probably the coolest part the Council plays for other countries. It's listening to the country's needs and being able to either connect them to grain or product producers and solve problems to get those markets where they need to be."
Heckman also urged other producers to participate in farming associations and to engage with other people in the industry.
"Get involved, you never know the impact you're going to have," Heckman said. "To the world you're just one, but to one you may be the world."
Please join the Council in recognizing Mark for his 10 years of contribution as a delegate!
About The U.S. Grains Council
The U.S. Grains Council develops export markets for U.S. barley, corn, sorghum and related products including distiller's dried grains with solubles (DDGS) and ethanol. With full-time presence in 28 locations, the Council operates programs in more than 50 countries and the European Union. The Council believes exports are vital to global economic development and to U.S. agriculture's profitability. Detailed information about the Council and its programs is online at www.grains.org.