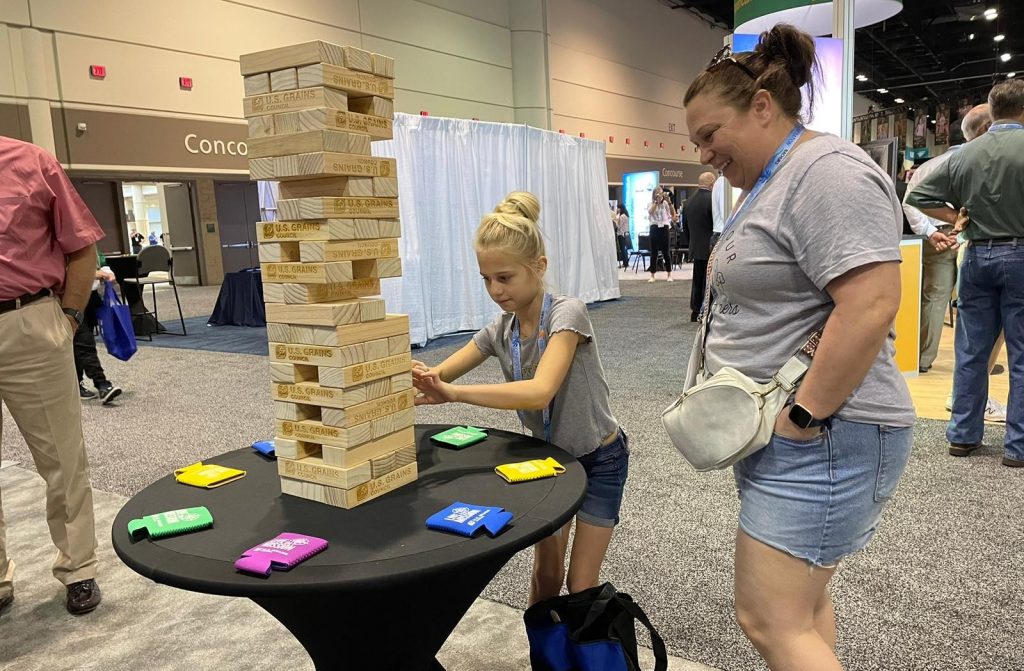 U.S. Grains Council (USGC) representatives highlighted the importance of exports and shared the Council's mission at its booth during this year's Commodity Classic event held in Orlando last week.
Council staff had the opportunity to talk with many farmers, industry representatives and agricultural reporters over the three-day period.
USGC staff and leadership in attendance included Cary Sifferath, vice president; Andrew Brandt, director of trade policy; Bryan Jernigan, director of communications; Ellen Zimmerman, director of industry relations; Jace Hefner, manager of global trade; Sadie Marks, manager of global strategies and trade; and Emily Sutton manager of communications.
The booth allowed Council staff to hand out educational materials highlighting the Council's top markets and new sustainability project, while also drawing in attendees to play a game of giant Jenga engraved with the organization's logo.
During a media-only preview at the outset of the event and throughout the exhibit hall hours, Council staff participated in at least 12 interviews with the trade press speaking about issues as diverse as established market movements including ethanol in Japan to biotech challenges in Mexico and efforts to find homes around the world for U.S. corn, sorghum, barley, ethanol and distiller's dried grains with solubles (DDGS).
Activities in the booth were tied directly to USGC Chairman Josh Miller's theme of Live the Mission, including giveaways featuring his theme's logo.
"Commodity Classic is a unique opportunity to speak with reporters in our community, but more importantly, families who farm around this nation," Jernigan said. "It's incredibly helpful to hear their stories, better understand the challenges they face on a daily basis, for us to exchange information on what the Council's role is in their world and how we work hard for them every day."
Commodity Classic is America's largest farmer-led, farmer-focused agricultural and educational experience. More than 10,000 attendees were in person to experience the event in the Sunshine State and discover the latest advances in U.S. agriculture. Aside from the trade show, educational sessions were also available for those in attendance.
Join the Council at Commodity Classic next year in Houston from Feb. 29-Mar. 2 to experience the event yourself!
About The U.S. Grains Council
The U.S. Grains Council develops export markets for U.S. barley, corn, sorghum and related products including distiller's dried grains with solubles (DDGS) and ethanol. With full-time presence in 28 locations, the Council operates programs in more than 50 countries and the European Union. The Council believes exports are vital to global economic development and to U.S. agriculture's profitability. Detailed information about the Council and its programs is online at www.grains.org.