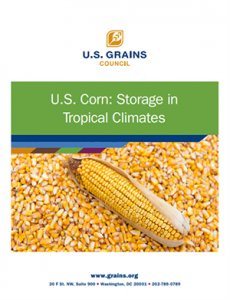 What happens when a segment of the global buying population believes they can't buy U.S. corn because it can't be stored in high-humidity regions? The Council helped develop a tool to show definitively they can.
When buyers in Southeast Asia questioned U.S. corn's storability, Council staff in the region worked with scientists at the IGP Institute at Kansas State University and officials at a grain handler in Malaysia to conduct and update best practices research in storing corn in tropical locations. Their collaborative project resulted in U.S. Corn: Storage in Tropical Climates, a 36-page update on a study originally conducted 10 years before, now available on the Council's website.
The results documented in the study show U.S. corn can be stored in tropical weather locations in properly, well-designed and maintained silos or warehouses with no type of treatment for at least 75 days without having any effect on quality.
"Studies like this one allow us to showcase the intrinsic value of U.S. agriculture as a whole," said Manuel Sanchez, USGC regional director for Southeast Asia. "This critical information contributes to the shared belief that U.S. farmers and agroindustry value all of our customers around the globe, including those who live in areas with subtropical weather conditions."
Importers of U.S. corn, especially in tropical climates, can face significant challenges to maintaining quality during storage. From repeated handling from farm to destination, producing more breakage and dust, to higher ambient temperatures and relative humidity at destination, these specific challenges spurred researchers to find successful storage solutions.
The six-month study included two shipments of U.S #2 corn from two different U.S. suppliers – comprised of 1,800 metric tons (70,900 bushels) and 2,800 tons (110,000 bushels), respectively – each broken into multiple container shipments. Samples for physical and chemical analysis, mold count and mycotoxin content were taken at different points, including origin, receiving, conveying and during the process unloading at the storage concrete silos in Malaysia.
With a mold inhibitor application upon arrival in Southeast Asia, U.S. corn can be stored for at least four months without any effect on quality. Application also can help control the potential growth of fungi spores typically present in the environment in tropical weather locations.
The addition of grain chilling discourages insect growth and infestation. The study found that U.S. corn could be stored at safe moisture content below 14.5 percent without increasing aflatoxin levels.
Tools like this study help the Council address potential questions from would-be end-users concerned that storing corn in high-humidity environments is neither possible nor feasible. The Council has already started highlighting this study at events in Southeast Asia and with buyers throughout the region.
"Southeast Asia is a 116-million-ton feed market, and it's growing," Sanchez said. "The region's coarse grains and co-products imports have grown to more than six million metric tons – a statistic that alone tells the story about why we're doing this work."
The information in the study serves as robust evidence that end-users can feel confident U.S. corn is a wise investment and can be stored safely under proper management for multiple months without issues.
About The U.S. Grains Council
The U.S. Grains Council develops export markets for U.S. barley, corn, sorghum and related products including distiller's dried grains with solubles (DDGS) and ethanol. With full-time presence in 28 locations, the Council operates programs in more than 50 countries and the European Union. The Council believes exports are vital to global economic development and to U.S. agriculture's profitability. Detailed information about the Council and its programs is online at www.grains.org.