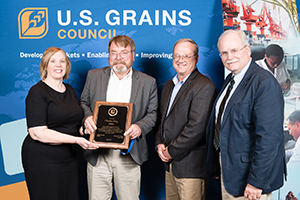 Charles Ring of Sinton, Texas, was recognized earlier this week at the U.S. Grains Council's (USGC's) annual membership meeting for his service to the organization.
Ring, a longtime Texas Corn Producers board member, began his work with USGC in 2006, and was made a voting delegate in 2009.
Notably, Ring was elected to the USGC's board of directors and served three terms, the last of which ended in July 2017.
"Charles always brought a unique perspective to our discussions and he always challenged the Board's thinking," USGC President and CEO Thomas Sleight said. "His location in South Texas allows him to understand trade in a very direct way with his corn delivered directly to Mexico and his sorghum loaded for boats headed for China."
As an active part of the organization, Ring served on every Council advisory team or committee, including acting as the Asia Advisory Team leader. Throughout his continued service with the organization, Ring hosted numerous trade teams at his farm in South Texas.
"Charles has demonstrated a commitment to promoting grains commodities in any form based on sound science and integrity," Sleight said. "He has provided an invaluable producer perspective as a member of Council teams meeting with industry and governmental leaders, current and potential customers, foreign stakeholders, and fellow Council delegates.
"He exhibits steady leadership, vision, and spirit of cooperation which enhance the contributions he makes to the industry."
Editor's note: thank you to the Texas Corn Producers, who originally published a version of this article.
About The U.S. Grains Council
The U.S. Grains Council develops export markets for U.S. barley, corn, sorghum and related products including distiller's dried grains with solubles (DDGS) and ethanol. With full-time presence in 28 locations, the Council operates programs in more than 50 countries and the European Union. The Council believes exports are vital to global economic development and to U.S. agriculture's profitability. Detailed information about the Council and its programs is online at www.grains.org.