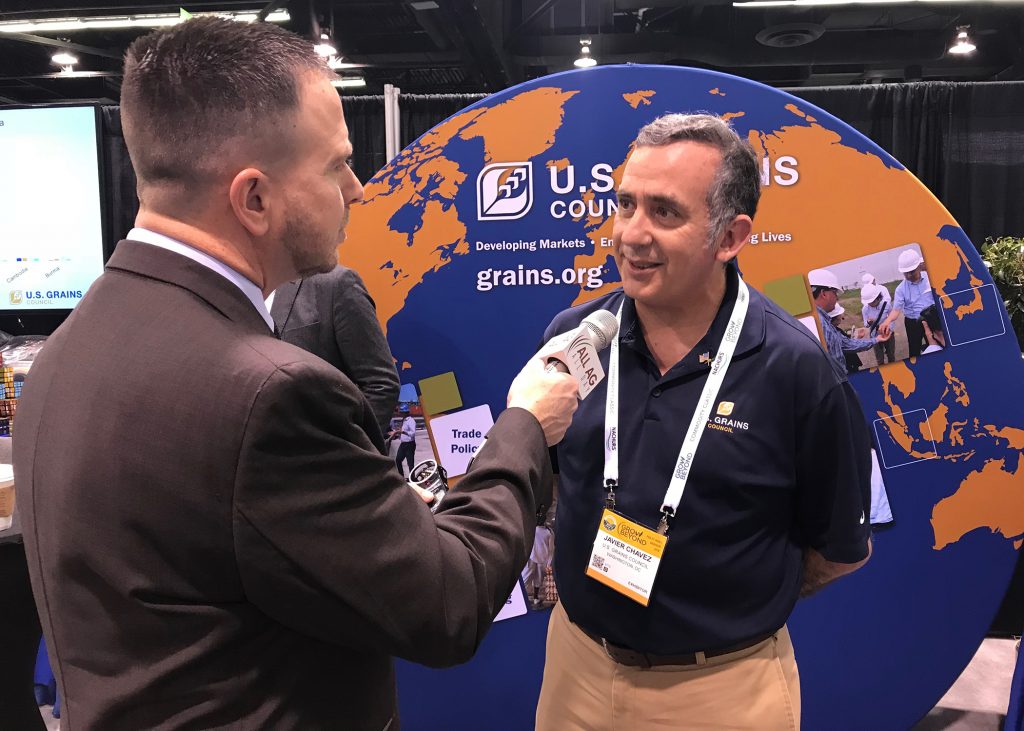 Representatives from the U.S. Grains Council (USGC) emphasized the importance of strong trade policy during interactions with farmers and commodity association leaders attending the 2018 Commodity Classic in Anaheim, California, this week.
USGC staff and elected leadership attending the convention included Deb Keller, USGC chairman and farmer from Iowa; Kim Atkins, USGC vice president and COO; Brian Healy, USGC manager of ethanol market development in the Washington, D.C. office; and Javier Chavez, USGC Mexico marketing specialist.
They and other current and past Council board members manned a trade show booth to discuss critical trade policy and market development issues including:
Pending talks on the North American Free Trade Agreement (NAFTA) and the U.S.-Korea free trade agreement, known as KORUS. These two agreements provide the basis for grains and ethanol trade with Canada, Mexico and South Korea, top- five trading partners for all of the feed grains and co-products the Council represents.
Trade concerns and opportunities related to China, a vibrant, trade-sensitive and complex market in which the Council has worked for more than 30 years. The country recently launched anti-dumping and countervailing duties investigations into U.S. sorghum, which the Council and others, led by the National Sorghum Producers, is defending against.
The need for new trade deals to provide the market access that, combined with market development, will lead to future sales of U.S. grains and ethanol. Specifically, the Council supports negotiations of new bilateral agreements and strongly supports the U.S. rejoining the Trans-Pacific Partnership (TPP).
The Council's work to develop markets and enable trade for ethanol, along with partners including state corn organizations, Growth Energy, the Renewable Fuels Association and the U.S. Department of Agriculture (USDA). This work has grown quickly and effectively since being launched in 2014 and is already paying dividends in sales around the globe.
The Market Access Program (MAP) and the Foreign Market Development (FMD) program, both authorized in the farm bill, that provide support for the Council's global staff presence. These programs have successful track records in generating a high return on investment for both farmer and federal dollars. According to analysis conducted by Informa Economics in 2016, the value of U.S. agricultural exports increased $24 for every $1 invested in MAP and FMD between 2002 and 2014.
The Council's representatives also took the opportunity to thank members for their strong support and understanding of how critical export markets are to future growth and profitability.
Learn more about the happenings at Commodity Classic through the hashtag #classic18.
About The U.S. Grains Council
The U.S. Grains Council develops export markets for U.S. barley, corn, sorghum and related products including distiller's dried grains with solubles (DDGS) and ethanol. With full-time presence in 28 locations, the Council operates programs in more than 50 countries and the European Union. The Council believes exports are vital to global economic development and to U.S. agriculture's profitability. Detailed information about the Council and its programs is online at www.grains.org.