With harvest on the horizon, several U.S. Grains Council (USGC) leaders and growers shared updates on their sorghum crops.
In the Sept. 20 crop progress report released by the USDA, 56 percent of the sorghum in the top six producing states were listed as being in good to excellent condition, with a quarter of their sorghum harvested.
Follow along in this photo essay as we take a closer look at Council members' crops.
Verity Ulibarri, USGC at-large director, shared photos of non-irrigated grain sorghum in Quay County, New Mexico, earlier this month.
"The crop in Eastern NM is looking good so far for our semi-arid climate! We have been blessed with timely moisture and good growing conditions this season," she said.
This crop is expected to be harvested in the next couple of weeks.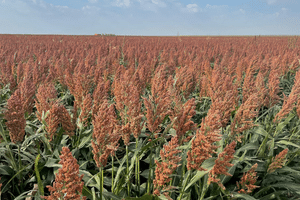 From Scott County, Kansas, Jon Berning, Kansas Grain Sorghum Commissioner, provided a crop update. Planted on June 6, this dryland sorghum crop will be harvested in early October.
"The crop looks great with minimal rain," Berning said.
Also in Kansas, Kevin Harris, an at-large representative for Kansas Grain Sorghum, shared an update from his farm in Dickinson County.
Pictured here is white sorghum that will be harvested sometime in October. Overall, Harris noted that growing conditions in the area have been pretty good this year.
The Council continues to track crop progress throughout the year. These farmer reports add a personal perspective to the weekly crop progress reports issued by USDA.
Follow along as the Council tracks harvest progress on its Facebook, Twitter and Instagram feeds.
The Council has also conducted a U.S. corn crop update. View it here.
About The U.S. Grains Council
The U.S. Grains Council develops export markets for U.S. barley, corn, sorghum and related products including distiller's dried grains with solubles (DDGS) and ethanol. With full-time presence in 28 locations, the Council operates programs in more than 50 countries and the European Union. The Council believes exports are vital to global economic development and to U.S. agriculture's profitability. Detailed information about the Council and its programs is online at www.grains.org.