Chicago Board of Trade Market News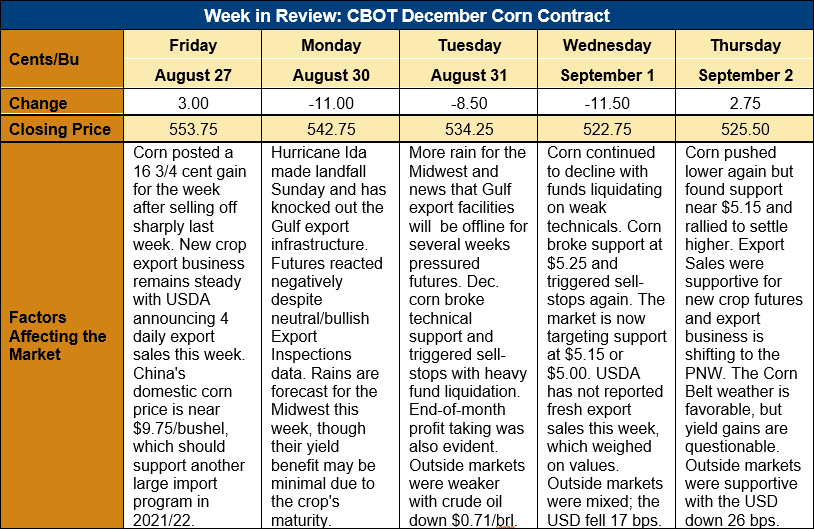 Outlook: December corn futures are 28 ¼ cents (5.1 percent) lower this week after a combination of end-of-month profit taking, technically based liquidation, and bearish fundamental developments pressured the market. The biggest news has been Hurricane Ida's impact on the U.S. Gulf Coast and export logistics, which have temporarily ground to a halt. Favorable U.S. weather forecasts have pared  back yield and production risk, adding pressure to the markets amid weakening technical conditions.
Hurricane Ida made landfall on the U.S. Gulf Coast near New Orleans, Louisiana on Sunday, knocking out power and causing physical damage to structures in the region. U.S. grain exporting firms are still assessing the damage and creating timelines for resuming operations. At least two major exporters say their facilities will be down for "extended periods". Others suffered more minor damages and are hoping to be operational again when electrical power is supplied to those facilities. In the meantime, some export business is being rerouted to the U.S. PNW, which will likely change normal spread relationships and basis levels for various commodities and locations.
The U.S. Coast Guard on Thursday reopened the Lower Mississippi river to navigation with restrictions, but no traffic is yet allowed between mile markers 108-167. That means vessels currently cannot reach most of the Gulf elevators. Offers for grain exports from the Gulf remain difficult to obtain, though buyers have reportedly been inquiring regularly. Note that prices will remain volatile as the industry works to reestablish normal trade from the Gulf and normal spread/basis levels will also likely experience abnormal trends and values.
Before Hurricane Ida hit, U.S. exporters shipped (through 26 August) 0.529 MMT of old crop corn, bringing 2020/21 YTD exports to 66.7 MMT (up 56 percent). YTD bookings for the 2020/21 crop total 70.023 MMT, 99.3 percent of USDA's forecast.  Exporters also sold 1.159 MMT of new crop corn for export, which was up 70 percent from the prior week. New crop bookings total 20.442 MMT, up 53 percent from this time last year.
U.S. corn conditions ratings were steady at 60 percent good/excellent last week, slightly below the 5-year average rating of 64 percent. The crop's maturity continues at an accelerated pace, with 59 percent of the crop dented (up from the average of 55 percent) and 9 percent of the crop is rated mature. The advanced maturity of the crop should allow for an earlier harvest and availability of the new crop on the export market.
From a technical standpoint, December corn futures broke trendline and psychological support at $5.30 on Tuesday, triggering sell-stops that took the market to support at $5.25. The impacts of Hurricane Ida kept the market on the defensive with the December contract testing support near $5.15 on Thursday's lows. A combination of short covering and end-user buying interest helped the contract finish higher on Thursday, however, and end above psychological support at $5.25. The higher close could indicate stability is reentering the market and that sideways trade is increasingly likely. Initial support lies at $5.15 in December futures with resistance at $5.45 and $5.56 (the 100-day moving average) above that. In the bigger picture, major support lies at the 26 May daily low ($5.00 ¼) with resistance at the post-August WASDE high of $5.94 ¾.