Chicago Board of Trade Market News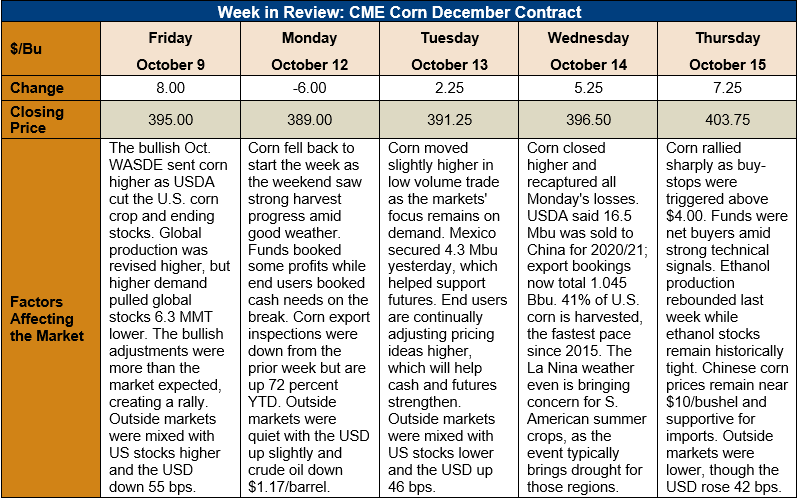 Outlook: December corn futures are 8.75 cents (2.2 percent) higher this week and trading above $4.00 for the first time since late January. After consolidating for most of the week, the market rallied 7 ¼ cents on Thursday to extend its upside move. Funds remain net buyers as export demand remains strong and hints of potential weather disruptions in South America support higher pricing ideas. The October WASDE was supportive for corn as USDA cut U.S. and global production.
The October WASDE saw USDA cut the harvested area estimate from 33.78 million hectares (83.44 million acres) to 33.39 million (82.5 million acres). The agency cut the U.S. corn yield from 11.2 MT/ha to 11.19 MT/ha (from 178.5 bushels/acres to 178.4) and the modest yield adjustment, combined with harvested area reduction, left production down 4.5 MMT (177 million bushels) from the September estimate. The 2020 U.S. corn crop is forecast at 373.95 MMT (14.722 million bushels), down 1.3 percent from 2019.
On the demand side, USDA left the 2020/21 U.S. export forecast unchanged at 59.06 MMT (2.325 billion bushels) but made small reductions to feed/residual and ethanol use. What made the report bullish was the larger-than-expected reduction in ending stocks, which are now forecast at 55.04 MMT (2.167 million bushels) for 2020/21.
Internationally, USDA lowered the global corn crop forecast to 1.458 billion MT. USDA made upward revisions to production in several African countries and Serbia, which the agency said more than offset production cuts to the European and Ukrainian crops. The agency lowered its forecast of global 2020/21 ending stocks by 6.3 MMT to 300.5 MMT. Global ending stocks were largely in-line with analysts' pre-report expectations. The global ending stocks-to-use ratio is forecast at 22.4 percent for 2020/21, down from 23.4 percent for 2019/20.
The trade is closely watching the strengthening La Nina weather event, which is defined by cooler-than-normal ocean temperatures in the Pacific. Typically, La Nina weather events bring dry conditions to northern Argentina and southern Brazil, while northeast Brazil tends to see greater precipitation. So far this year, Argentina's wheat crop has been hurt by drought but there have been few impacts expected for the corn or soybean crops. Now, with the La Nina forecast to strengthen into 2021, the odds are increasing that Argentine and Brazilian summer crops may see drier conditions. While a summer drought for these regions is far from certain, the historic patterns have helped justify higher CBOT values.
The USDA's weekly Export Sales report is delayed due to a U.S. government holiday earlier this week. The Export Inspections report, however, noted that 632,000 MT of corn was inspected for export last week, down from the prior week. YTD inspections are up 72 percent, however, at 4.319 MMT.  Sorghum inspections were light last week (totaling 192 MT) but YTD inspections are double last year's value. Barley inspections reached 1,896 MT, bringing YTD inspections 5 percent above the prior year.
From a technical standpoint, December corn futures posted a bullish upside move with a strong close above $4.00 on Thursday, October 15. That level had offered resistance in recent trade, but a period of consolidative trade gave bulls enough strength to push above that level. Bull markets are often characterized by sharp pullbacks that see strong support and result in consolidative trade. That pattern was evident this week and suggests the 2020 corn bull market is still alive and well.