Chicago Board of Trade Market News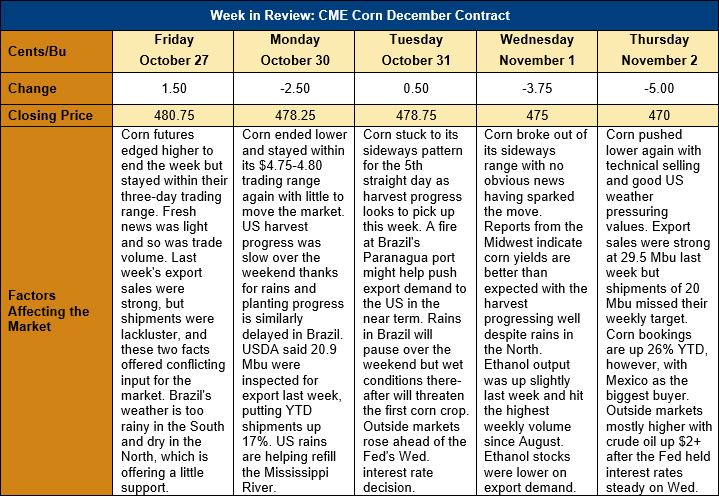 Outlook: Corn futures are 10 ¾ cents (2.2 percent) lower this week as the market exited its short-lived trading range to the downside on Wednesday and Thursday. The biggest catalyst for the downside move was a mostly clear and warm weather pattern for the U.S. over the weekend and into next week, which will help the corn harvest complete the final stages. Aside from the weather forecast and export trends, fresh news has been light this week and the lack of a "bull story" helped contribute to the market's weakness.
The U.S. corn harvest is 71 percent complete according to USDA's Monday Crop Progress report. That figure was up from 59 percent last week and above the five-year average of 66 percent. There are two notable trends in the harvest progress: the first is that the Plains and Western Corn Belt States, including Iowa, Nebraska, Minnesota, and Illinois, are all running ahead of their normal schedule with harvest. The second is that Eastern Corn Belt states Indiana, Michigan, and Ohio are running well behind their normal pace. Ohio's progress is 19 percentage points behind the five-year average while Michigan and Indiana are, respectively, 9 and 8 percentage points behind their average paces. Fortunately, the coming week's weather offers warmer-than-normal temperatures for most of the U.S., including the Eastern Corn Belt, with rains likely to hold off until late next week. That should allow farmers to enter fields and make solid progress harvesting over the weekend and early next week.
While the weather in the U.S. remains favorable for corn harvest and winter crop development, Brazil and Argentina continue to see challenging weather. Most notably, Brazil's southern states Rio Grande do Sul and Parana are locked in a heavy-rainfall pattern with flooding disrupting the first corn crop's development. Rains are also challenging the soybean planting, which could delay harvest and the subsequent planting of the safrinha corn crop, which accounts for roughly 75 percent of Brazil's annual corn production. In contrast, the weather forecast for Argentina and central/northern Brazil is drier than normal over the next 5 days, but showers should reach northern Argentina by mid-next week. The challenging conditions observed so far in South America could keep corn futures elevated as the market assesses the 2023/24 crop's potential.
The weekly U.S. Export Sales report featured 1.002 MMT of new corn sales and exports of 0.505 MMT, which was up 5 percent from the prior week. YTD exports now total 4.989 MMT and are up 20 percent while YTD bookings (exports plus unshipped sales) are up 26 percent at 18.275 MMT and account for 43.3 percent of USDA's forecasted 2023/24 export program.