Chicago Board of Trade Market News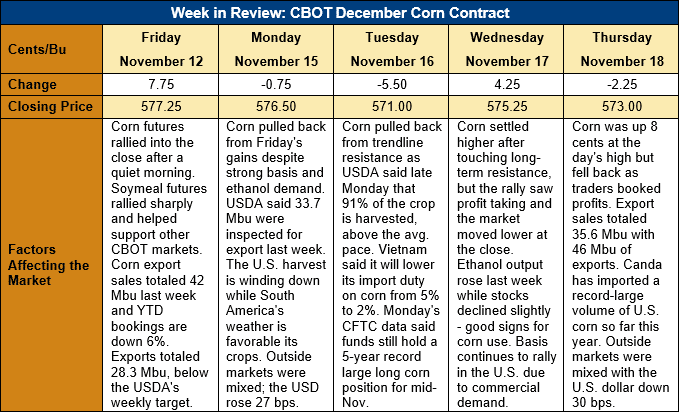 Outlook: December corn futures are 4 ¼ cents (0.7 percent) lower this week after the market has mostly traded sideways near its trading range high. Fresh fundamental news has been light with the U.S. harvest nearly finished, strong ethanol demand continuing, and the export sales data having a neutral price implication. Funds still hold a five-year record large long position in corn futures, but have not substantially added to that position this week. Corn spreads have strengthened under rising commercial demand, but December and March futures have not rallied appreciably. It seems with the U.S. harvest essentially done for the year; the market is entering demand-watching mode. So far, export demand has been neither bullish nor bearish CBOT corn futures but domestic demand has been supportive.
The weekly USDA Export Sales report featured 0.904 MMT of net corn sales and 1.167 MMT of exports. Exports were up 63 percent from the prior week and were in-line with pre-report expectations with Mexico, Japan, and Canada emerging as the week's largest buyers. The week's activity put YTD bookings (exports plus unshipped sales) at 32.98 MMT, down 6 percent from 2020. Roughly two and a half months into the 2021/22 corn marketing year, YTD bookings account for 47 percent of USDA's projected total.
Notably, Canada's weekly corn imports were record large and bring the country's YTD imports from the U.S. to 314,500 MT (12.8 million bushels). Canda has 1.233 MMT (48.6 million bushels) of outstanding export sales booked with the U.S. and analysts predict the country will import as much as 5 MMT of corn this year. That figure is above USDA's projection of 3 MMT and is driven by the impacts of drought that cut Canada's 2021 grain production.
The weekly uptick in exports and surging ethanol related corn demand is pulling basis levels higher across the Midwest. Basis averaged -12Z (12 cents under December futures) this week, up from -14Z last week and above the -16Z recorded this time last year.
From a technical standpoint, December corn futures are testing long-term trendline resistance at $5.85 but have yet been unable to break above that level. The market is approaching the apex of a wedge formation on the charts with support at $5.62 and resistance at $5.85. Markets often break out of these patterns with significant volatility, and a large price move in the near future is not unlikely. An upside breakout could lead to a test of $6.00 while a downside breakout will find initial support at the 100-day moving average ($5.45).