Chicago Board of Trade Market News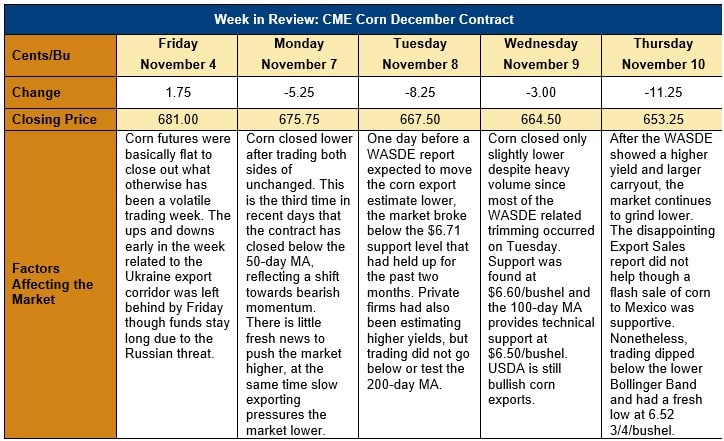 Outlook: After five days of trading, December corn futures are down X cents (0.0 percent) as the market broke through lower support this week at $6.71/bushel. USDA maintained confidence in its export forecast of 54.61 MMT (2,150 million bushels) even as it raised yield and carryover stocks in its November WASDE report. The agency did lower its forecast for global corn production, exports and ending stocks. U.S. corn ending stocks remain at their lowest level in 10-years and this year's crop is the smallest in three years.
Long positions have been trimmed but not completely exited as there remains many uncertainties in the corn market. At the end of last week, corn speculators had raised their net long position by 11,982 contracts to a total of 196,686. CFTC's report tomorrow will show whether that remains the market position.
As of Sunday, USDA's Crop Progress report indicates the U.S. corn crop is 87 percent harvested, which is above both last year's pace and the 5-year average. This late in the season, rain or snow could slow removing what is left but no significant delays are expected.
At 231,458 MT, weekly export inspections as of November 3 were down 48 percent from a week earlier and remain well behind the U.S. forecast. Export sales last week were 259,080 MT and overall commitments are down 54 percent from a year ago. However, there was a flash sale of corn to Mexico this week at 338,600 MT. Meanwhile, Conab lowered its forecast for the 2022/23 Brazilian corn crop by 0.4 percent.
Ethanol production remains strong with the EIA reporting yet another week of increased production At an average of 1,051 thousand barrels produced a day for the week ending November 4, this makes the fourth week in a row of daily output exceeding one million barrels.
Russia maintains its position that its demands are not being met for extending the current Black Sea grain corridor agreement beyond its current November 19 expiration date. UN officials remain express optimistic it will continue but more will be known in just over a week from now.