Chicago Board of Trade Market News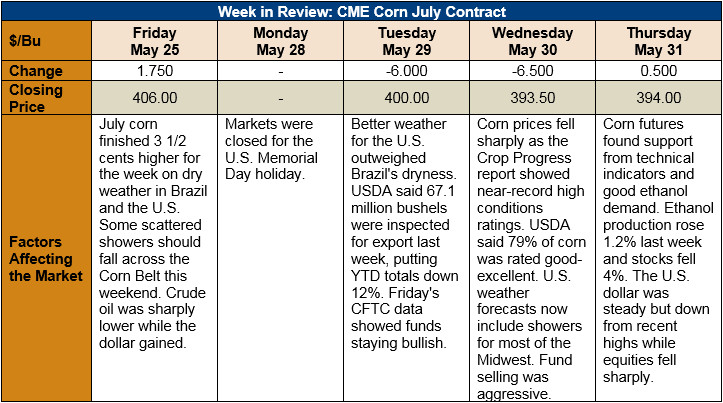 Outlook: July corn futures are down 10 ¼ cent (3 percent) from last week's report as favorable crop conditions and weather in the U.S. assuage some supply concerns. Demand remains opaque this week with the USDA announcing few daily export sales and some weekly reports delayed due to Monday's U.S. holiday. The market is slowly switching it focus to the supply side of the balance sheet (i.e., weather and yields) and is consequently volatile.
The weekly Export Sales report from USDA is delayed one day this week due to the U.S. Memorial Day holiday. Tuesday's Export Inspections report, however, featured 1.705 MMT of corn exports, up 10 percent from the prior week. YTD totals are still down. USDA also noted 25 KMT of sorghum were inspected for export last week, bringing YTD totals down 1 percent from the prior year.
Ethanol production increased 1.3 percent last week, according to the U.S. Energy Information Agency, and stocks fell 3.9 percent, a bullish combination for corn demand. Ethanol production has exceeded the weekly volume needed to meet USDA's forecast of corn used for ethanol in 29 of the elapsed 37 weeks of the corn marketing year. Consequently, the agency is likely to increase its forecast in a coming WASDE report.
Tuesday's Crop Progress report from USDA showed 92 percent of the U.S. corn crop planted, slightly ahead of the five-year average of 90 percent. The report surprised many with a good/excellent rating given to 79 percent, well above the five-year average of 70 percent and a near-record high for the last week of May. Early season crop condition ratings tend to correlate poorly with final yields, but these initial numbers suggest the crop is off to a great start and suffering no ill effects from early planting delays.
From a technical standpoint, July corn futures are still trending higher but are testing major support at the trendline formed by the 12 January and 23 March daily lows. December futures are in an even more well-defined uptrend and are testing resistance at $4.10/bushel, with trendline support below that. With the U.S. weather featuring an early round of hot weather next week and the ever-present risk of damagingly hot/dry weather later this summer, the futures market is not likely to remove the weather premium in the near-term. New-crop futures should continue to find support and offer solid marketing opportunities for producers.