U.S. Weather/Crop Progress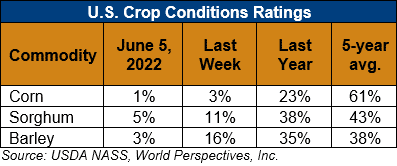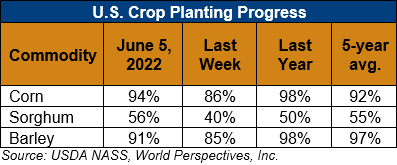 U.S. Drought Monitor Weather Forecast: A couple of low pressure systems and trailing cold fronts are forecast to bring widespread, heavy rainfall to the Northeast and Mid-Atlantic through June 11. Along a nearly stationary front, a swath of heavy rainfall is forecast to spread southeastward from the Ozarks Region to the northern Gulf Coast on June 9 and 10. The wet pattern is likely to continue from the Pacific Northwest eastward to the northern Rockies and northern Great Plains through June 13, as another low pressure system emerges from the northeastern Pacific. Meanwhile, a heat wave is forecast to expand from California and the Desert Southwest eastward to the south-central U.S. during mid-June.
The Climate Prediction Center's 6-10 day outlook (valid June 14-18, 2022) depicts large probabilities (more than 70 percent) for above-normal temperatures across the southern Great Plains, lower Mississippi Valley, and Southeast. Below-normal temperatures are favored to persist across the Pacific Northwest. Below-normal precipitation is favored for the central to southern Great Plains, middle to lower Mississippi Valley, and much of the Corn Belt. Probabilities for above-normal precipitation are elevated across the Pacific Northwest along with parts of the Southwest.
Follow this link to view current U.S. and international weather patterns and future outlook: Weather and Crop Bulletin.