Chicago Board of Trade Market News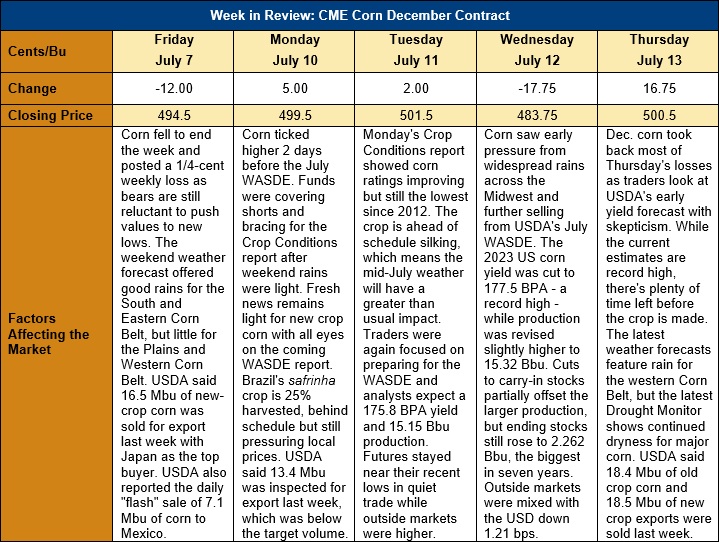 Outlook: Corn futures are 6 cents (1.2 percent) higher this week after a bearish initial reaction to the July WASDE gave way to bullish thoughts on U.S. corn yield potential. The USDA's latest outlook for the U.S. and global corn markets was for larger U.S. supplies and carry-out and modest increases in world corn production. Markets were initially spooked by record-high forecasts for U.S. yields and the 2023 crop but with the latest Drought Monitor map showing persistent dryness for key producing states, traders are skeptical that USDA's July yield estimate can be obtained.
For the U.S., the WASDE adopted NASS' latest acreage estimates (38.10 Mha or 94.1 million acres), which marked a 2.3 percent increase from the prior month. Due to the early season drought in the Midwest, USDA lowered its yield forecast by 2.2 percent to 11.14 MT/ha or 177.5 bushels per acre, which would still be record-large if realized. Between higher acres and record yields, production for the 2023/24 crop was pegged at 389.15 MMT (15.32 billion bushels), which would mark an 11.6 percent increase from the 2022/23 crop. USDA did not make any changes to the demand side of the new crop balance sheet, but increased ending stocks 127 KMT (5 million bushels) to 57.46 MMT (2.262 billion bushels.
While the focus was on the new crop balance sheet, USDA made minor adjustments to the 2022/23 demand estimates. The agency increased feed and residual use by 3.8 MMT (150 million bushels) but lowered ethanol use by 635 KMT (25 million bushels) and reduced exports by 1.9 MMT (75 million bushels). Ending stocks were reduced 635 KMT MMT (50 million bushels), which of course translated into tighter carry-in supplies for the new crop year.
Beyond the U.S., USDA lowered its forecast of Argentina's 2022/23 corn crop 1 MMT to 34 MMT and increased the Brazilian crop by 1 MMT to 133 MMT based on favorable conditions for the safrinha crop. USDA made few changes to the 2023/24 world balance sheet but issued slight increases for Canadian and Ukrainian production and a smaller forecast for Europe's maize crop. World corn ending stocks rose 0.1 MMT to 314.1, the largest carry-out figure since 2017/18.
U.S. corn export sales were up sharply from the prior week with 511 KMT of old crop gross sales and 471 KMT of new crop sales. Exporters shipped 492.7 KMT of old crop corn last week, which was down from the prior week but enough to put YTD exports at 35.451 MMT. YTD bookings (exports plus unshipped sales) now total 39.5 MMT, down 35 percent from last year but account for 94 percent of USDA's latest export forecast.