Chicago Board of Trade Market News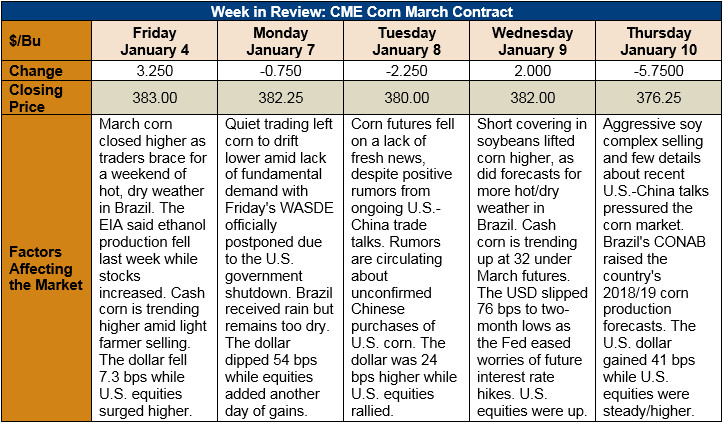 Outlook: March corn futures are 6.75 cents (1.8 percent) lower this week as the partial U.S. government shutdown continues, leaving the market without fundamental information. Most of this week's losses occurred on Thursday, 10 January, when the soy complex came under significant fund selling that spilled over into the corn market. Fundamentally, without key USDA reports, there is little fresh news to drive the market outside of cash prices and international production estimates.
U.S. cash prices have been trending stronger in early 2019 as winter weather and logistic issues, along with lower futures prices, discouraged farmer selling. With futures' early week rally and better weather, however, farmer selling picked up Wednesday and Thursday. That pressured cash prices and widened basis levels across the Midwest. Upward-trending cash prices in conjunction with bullish futures spreads (including the March/May spread at 66% of full carry) continue to point to a moderately bullish scenario for corn.
As noted last week, the ongoing U.S. government shutdown has suspended USDA's daily and weekly Export Sales reporting system. That leaves the USDA AMS' weekly Export Inspections report as the only publicly available mechanism by which export activity may be analyzed. The latest edition of that report showed 0.5 MMT of corn inspected last week, a volume that was a sharp decrease from the prior week. Still, YTD inspections are up 61%, which speaks to the aggressive pace of sales and exports earlier this marketing year.
March corn is still technically trending higher, with today's settlement price neatly resting on the uptrend line in place since early September 2018. This trendline has been major support for the contract this marketing year and could be a springboard for prices to move higher tomorrow and into next week. The contract also faces strong resistance at several points overhead, including $3.85 and the 200-day moving average ($3.90). Before the contract can make a serious effort to break these points, new fundamental data will likely be needed. Consequently, corn's most likely direction seems to be steady/higher and driven by the uptrend.