Chicago Board of Trade Market News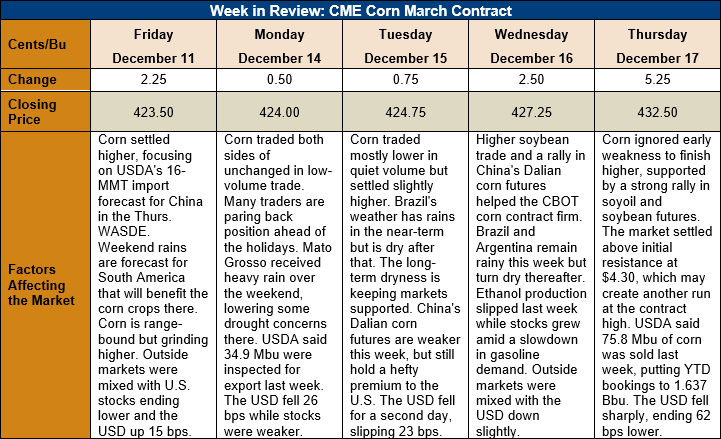 Outlook: March corn futures are 9 cents (2.1 percent) higher this week as the market has slowly firmed with Thursday's soyoil/soybean rally offering spillover support. Trading volumes have been modest as many traders are exiting positions ahead of the holidays. Reports suggest U.S. farmers have sold as much as 70 percent of the 2020/21 corn crop, which is limiting selling pressure on rallies. The markets are increasingly focused on export demand, but USDA's daily export sales wire has been quiet. Still, export sales and shipments remain robust. On Thursday, a private firm lowered its forecast of Ukraine's corn exports by 2.2 MMT to 23 MMT, which should push more business to the U.S. as the marketing year progresses.
The weekly Export Sales report showed 1.924 MMT of net export corn sales, up 41 percent from the prior week. Weekly exports rose 35 percent, totaling 0.965 MMT. YTD exports are up 59 percent at 12.053 MMT while YTD bookings (exports plus unshipped sales) are up 142 percent at 41.579 MMT.
U.S. cash markets continue to firm alongside CBOT futures. Strong commercial demand to keep the export pipeline full is further supporting values. U.S. basis levels continue to firm, with the national average reaching 16 cents under  March (-16H) futures this week. That is up 1 cent from last week and above the -41H observed this time last year. Barge CIF NOLA offers are up 1 percent this week at $194.00/MT while FOB NOLA offers are up slightly at $217/MT.
From a technical standpoint, March corn futures are holding a sideways trading pattern with support at $4.14 and resistance at the contract high ($4.39 ½). Thursday's 5 ¼-cent rally above $4.30 was a minor technical win for bulls and could allow additional technical buying to enter the market soon. Technical indicators suggest the corn market is neither overbought nor oversold and short-term momentum is turning higher. That should allow the market to approach and test its contract high. If soybean futures maintain their strength, spillover buying from that market could help March corn rally to fresh contract highs.